September 9, 2015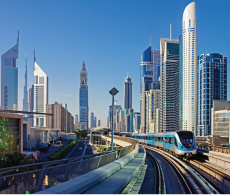 Newly published research claims that investing in public and low emission transport, building efficiency, and waste management in cities could generate worldwide savings of US$17 trillion by 2050. The Global Commission on Economy and Climate, an independent organisation comprising former finance ministers and leading research institutions from Britain and six other countries, found climate-smart cities would spur economic growth and a better quality of life – at the same time as cutting carbon pollution. These investments could also reduce greenhouse gas emissions by 3.7 Gt CO2e per year by 2030, more than the current annual emissions of India. With complementary national policies such as support for low-carbon innovation, reduced fossil fuel subsidies, and carbon pricing, the savings could be as high as US$22 trillion according to the report.
"The steps that cities take to shrink their carbon footprints also reduce their energy costs, improve public health, and help them attract new residents and businesses," said Michael R. Bloomberg, UN Secretary-General's Special Envoy for Cities and Climate Change. "This report can help accelerate the progress cities are making in all of these areas, by highlighting smart policies and encouraging cooperation through efforts like the Compact of Mayors."
The report recommends that cities commit to low-carbon urban development strategies by 2020. It also recommends cities commit to the Compact of Mayors, a global coalition of mayors and city officials pledging to reduce local greenhouse gas emissions, enhance resilience to climate change, and track their progress transparently. More than 130 cities – representing more than 220 million people – have already committed to the Compact of Mayors and will be setting ambitious emissions reduction targets and reporting publicly.
"Better, more resilient models of urban development are particularly critical for rapidly urbanizing cities in the developing world," said Eduardo Paes, Mayor of Rio de Janeiro and Chair of C40 Cities. "Cities around the world are already leading the way in implementing sustainable and innovative urban solutions. By sharing and scaling-up these best practices through international collaboration, cities can save money and accelerate global climate action."
"Developing country cities have a major opportunity to lead the low-carbon future", said Parks Tau, Mayor of Johannesburg.  "In Johannesburg, the Rea Vaya Bus Rapid Transit and the highly competitive R1.5bn green bond both demonstrate a commitment to economic growth and investment rooted in resilient, sustainable urban development."
Creative policy instruments and innovative financing can help cities overcome barriers to action, the report says. For every US$1 invested in improving the creditworthiness of cities, more than US$100 can be leveraged through private finance for low-carbon urban infrastructure. And every US$1 million invested in project preparation could yield US$20–50 million in capital support for successful projects.
The report offers numerous examples of cities that have achieved or can achieve economic benefits from green investments.
Bus Rapid Transit: The economic returns of Johannesburg's Bus Rapid Transit system in its first phase were close to US$900 million.
Building efficiency: Singapore's "Green Mark" program, for instance, which aims to cover 80% of its buildings by 2030, could see a reduction in building electricity use of 22% and net economic savings of over US$400 million.
Cycling: Copenhagen's planned Cycle Super Highways are estimated to have an internal rate of return on investment of 19% per year.
Nick Godfrey, Head of Policy and Urban Development at the New Climate Economy and an author off the report, provided context for the report's analysis. "US$17 trillion in savings is actually a very conservative estimate," he said, "because it only looks at direct energy savings generated from investment, which are a small proportion of the wider social, economic, and environmental benefits of these investments."
The report also recommends that the international community should develop an integrated package of US$1 billion or more over five years to help accelerate and scale up low-carbon urban strategies in at least the world's largest 500 cities.
The report, Accelerating Low-Carbon Development in the World's Cities, can be found here.