September 28, 2021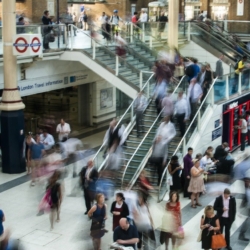 A new study from researchers at University College London claims that the journey to work has benefits for people's mental health, fitness levels and work-life balance. According to the study into attitudes to commuting led by neuroscientist Joseph Devlin, around half of the 3,000 people surveyed said taking in the scenery by train was the 'best part' of heading into the while a quarter said it was the chance for 'me time', including reading, listening to podcast or catching up on emails.
Nearly half the 3,000 people surveyed by researchers said that being in the office put them in a better mindset for work, while 45 per cent felt that they were more productive in the office as they could share ideas with colleagues without having to take part in meetings or schedule a call.
"The commute delineates boundaries between home and work life and can be used to switch one off and transition to the other, which can have a positive impact on cognitive performance, wellbeing and productivity," Joseph Devlin  said. "Just going to work generates more diverse experiences than working from home, especially through interactions with other people."
Meanwhile, 50 percent admitted to eating more light meals while working from home, and 43 percent said they were distracted by housework, deliveries and long lunches.
The study follows reports that people have been creating fake commuting experiences to address their wellbeing and reintroduce structure and engineered familiarity to their working days.
The abrupt shift to remote work brought challenges, British researchers from schools including University College London, University of Birmingham and Northumbria University said in a written submission to the UK Government, describing the rise in the numbers of people taking part in pretend commutes. According to the evidence, many workers have simply used the time they would have been commuting to work to spend more time working.