June 10, 2019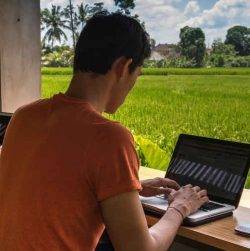 In his book How Buildings Learn, the author Stewart Brand outlines the process whereby buildings evolve over time to meet the changing needs of their occupants. He describes each building as consisting of six layers, each of which functions on a different timescale. These range from the site itself which has a life cycle measured in centuries, through to the building (decades), interior fit out (years), technology (months), to stuff (days). The effectiveness of a design will depend on how well it resolves the tensions that exist between these layers of the building, and this is one of the benefits of coworking that isn't discussed enough.
The principles behind this complex situation have been known to us for a long time, at least since the 1970s when Frank Duffy first introduced the world to his ideas about the physical and temporal layers of the building – in his terminology the 'shell, services, scenery and sets' which anticipates Stewart Brand's own take on the interplay of building layers.
The ability to respond to change and the tensions that exist between these layers are perhaps the most important facets of an effective office design. Creating this level of responsiveness is described in the Facilities Design and Management Handbook by its author Eric Teichholz as 'the basic driver of the facilities management workload.'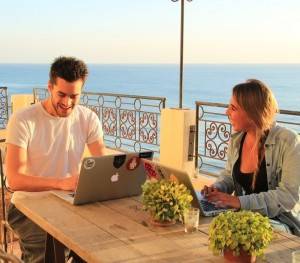 However, it looks like things may be changing fundamentally because of the uptake of coworking and its influence on mainstream office design. This is a genuinely disruptive phenomenon because it marks a fundamental shift in the way office space is used. It may even be more accurate to suggest that the space is not occupied but rather consumed.
It is based on a business model that does not see the people who use the space as occupiers in the traditional sense but as members. In that regard at least it is the most advanced form of flexible or agile working space, unless you count the hotel lobbies and terraces, private members clubs and coffee shops that are its most obvious aesthetic and functional progenitors.
Coworking thrives particularly where there are clusters of start up businesses and especially where these are active in the key creative and digital sectors, such as those in India and Bali (main picture) which is by all accounts a hotbed of freelancers. That is just one of the reasons why the new world capital of coworking may well be London, which is why the seemingly unstoppable global coworking juggernaut that is WeWork is so focussed on becoming the major player in London's commercial property market and others are already nipping at its heels.
A perfect storm
The other main reason London is such a hotbed of coworking is because of its current perfect storm of conflicting market forces that are making it both an attractive and problematic location for the sorts of businesses drawn to coworking space. For all that workstation sizes are shrinking, firms are reducing and divesting the space they occupy, demand for commercial property in the capital is consistently outstripping supply, driving up rents and forcing firms to make harsh decisions about where and how they work. The problem is exacerbated by the new office to residential planning freedoms which are further depleting the availability of office space in key locations.
These disruptive forces were encapsulated in a CoreNet global study. The report claims that coworking spaces are having a major disruptive effect on local property markets and are particularly attractive to occupiers from specific sectors such as those in digital fields where flexibility and an ability to network with like-minded businesses are key drivers of success.
How this can play out is evident in the digital enclaves of East London right now. While it's important for firms in the creative and tech sectors to have access to a strong pool of talent and related businesses, the hothousing of startups in the tech city area in Shoreditch has created a situation in which rents have risen to the same levels as prime locations in the West End and The City. Under those conditions firms are looking either to relocate to nearby districts to the North and East or look for new ways of occupying office space.
The influence of the design of these sorts of offices is spreading out into more traditionally corporate environments
Enter the coworking phenomenon, and in particular specialist firms like WeWork alongside traditional serviced office providers who are evolving their own business models to take advantage of the new realities. Of course this is not just a phenomenon restricted to London. Coworking spaces are springing up all over the country. Often the drivers for their location and use are familiar from those in the capital; the need to have consumable office space for techs and other startups, situated squarely in the deep end of a talent pool, with flexible, low cost arrangements and the sorts of surroundings attractive to these sorts of firms.
The influence of the design of these sorts of offices is even spreading out into more traditionally corporate environments. The premise for this seems to be that whenever you ask people to describe their perfect office, you almost invariably get a description of something that sounds like what we would now deem to be an archetypal coworking space; little or no openly corporate furniture or other interior features, comfortable seating, fast broadband, interesting and engaging people to work alongside, some private work areas and decent food and coffee.
One example of this is provided by Google which has now set up coworking locations worldwide offering business startups not only an engaging work environment but also mentoring and advice. In return Google obviously gets to tap into creative talent and identify the next generation of ideas. One of  the latest of these centres has been opened in Madrid and features many of the characteristics we would expect, not least the almost total rejection of anything that might be deemed too corporate. Instead it draws its inspiration from educational and hospitality facilities.
A new model
In some ways, this is the culmination of an ongoing trend to do away with the traditional models of desk + chair + storage. This is driven primarily by the trend towards non-desktop technology but also by the rejection of traditional career models by the new generation of employees now entering the workforce. They are used to working anywhere, anytime and in ways they see fit and would clearly far rather be home or in Starbucks or even the street than sat behind a desk.
Instead of a space to occupy, they are after a space to use
This desire has now translated both into the aesthetic and functional principles we see behind at least some of the spaces inside pretty much all office buildings nowadays but also in the very essence of the coworking phenomenon. It is also inspiring a revolution in office design characterised by the design of new systems. This marks a fundamental shift in the way firms, especially those in the key TMT and other creative sectors, see their office needs. Instead of a space to occupy, they are after a space to use. They see the workplace very much as they would any other asset, be it a piece of technology or even – increasingly – the services of individuals.
This does not mean, of course, that coworking offices are not owned, designed and managed in the long term by their owners just as they may a more traditional environment. It means that the layers that define 'the facilities management workload' change their functions, interrelationships and responsibilities. And, as the coworking phenomenon continues to gather pace, and as we expect to see many of the ideas that define it more widely embraced, so its influence will be felt in offices of all types beyond its core markets.
This will include larger organisations who will use coworking facilities alongside their core office space to deal with business change and create more flexible and attractive working cultures to attract the best talent. We've only just begun to see the way coworking will reshape the office but there is no doubt its impact will be profound and widespread.
___________________________________


Paul Goodchild is the Design Director of Fresh Workspace