June 9, 2015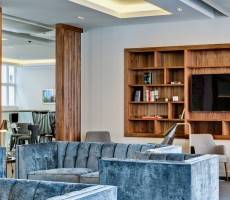 A parliamentary inquiry into the effects of design on behaviour has been launched by the Design Commission. The eight month process was announced at an event in Parliament yesterday by architect Richard Rogers and will begin with a call for submissions which will end on 3 July.  The inquiry will be led by Bartlett dean Alan Penn and Janet Whitaker, vice-chair of the All-Party Parliamentary Design and Innovation Group (APDIG) and who helped to establish the House of Lords on committee on the built environment. The inquiry aims to explore how the design of the built environment can have a positive impact on behaviour, and present a number of case studies of best practice as well as report back to Parliament with recommendations "designed to stimulate new thinking in planning policy across central and local government".
In a statement issued ahead of the launch, the Design Commission said: "The commission believes that in designing and constructing the environments in which people live and work, architects and planners are necessarily involved in influencing human behaviour. The commission argues there exists a long-standing thread of recognition that the way people live their lives is directly linked to the designed environments in which they live. While welcoming recent government use of nudge theory principles in policy-making decisions, the commission identifies a need to further develop and reinvigorate thinking in the field."
The inquiry has setout three key questions it would like to address with its call for evidence.
1) Does the built environment affect the behaviour of individuals or communities? Is there evidence to suggest that it does or does not? If yes, in what ways?
2) Are there examples of changes in behaviour on the part of people in the UK in relation to any aspect of the built environment? What examples should the Inquiry look at, both positive and negative?
3) Are there examples where people have changed their behaviour as the result of some aspect of the built environment?
Main image: Courtesy of Area Sq.