February 28, 2017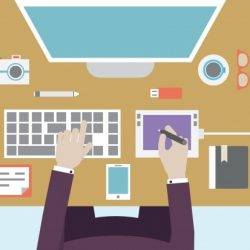 The rise of the gig economy and social media platforms have pushed creative and design jobs up the salary ranks, according to the latest UK Job Market Report from Adzuna.co.uk. In January, average salaries in this sector saw an annual increase of 2.2 percent to £31,828, with its popularity being driven by factors such as the new digital age coupled with the expertise of graduates who step into the jobs market with a fresh outlook on social media channels such as Snapchat and Instagram, which are highly valuable to employees. Across the job market, the employment rate stands at 74.6 percent, the highest since comparable records began in 1971 according to the ONS. This has been helped by a record proportion of women in work, with so-called 'returnships' – a type of later-life work experience helping older people, predominantly women back into the workplace – boosting the figures. Immigration may have tailed off in the wake of Brexit, but this also previously helped stimulate the jobs market.
However, as a result of the record number of people in work, the number of vacancies has cooled somewhat, with the available opportunities falling to a 12-month low of 1,088,353. The data also shows that average salaries increased only slightly to £32,420 (up 0.3 percent) in January, but wages fell annually across all regions in the UK.
Wales was showing promising signs of salary growth in December (up 0.5 percent year-on-year)  however, January's figures show salaries have fallen by 1.5 percent in the 12 months to January to currently stand at £29,248. Similarly in Northern Ireland which had showed recent signs of promise, year-on-year salary growth declined from -1.1 percent in December to -2.2 percent in January.
Salaries in London experienced the highest annual decline and are now 4.1 percent lower than January 2016. The total number of advertised roles in the capital stands at 244,876 with typical salaries of £38,547, the highest number of vacancies and salaries within the labour market.
Doug Monro, co-founder of Adzuna, explains: "With the average house price in the capital now £484,000 according to latest ONS figures, it is alarming that London has the lowest year-on-year salary growth. Looking at the bigger picture, wages have flatlined for some time and affordability concerns for employees and jobseekers will come into play as disposable incomes are stretched.
"On a positive note, the employment rate has reached its highest point in terms of volume proving that there are a number of factors within the labour market as well as social factors such as more women in work, which are increasing productivity. In addition, competition per vacancy has increased, suggesting employers have more skilled workers to choose from."
Monro concludes: "The post-Brexit economy looks uncertain for the jobs market, but it is encouraging to see both traditional and new, digital-age job roles evolving and creating a dynamic jobs market with a variety of options for jobseekers and employees wishing to switch roles."