November 1, 2017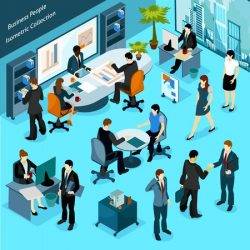 There is a divide in the importance placed on the office environment among different levels of the UK workforce, with new research suggesting C-Suite executives do not fully appreciate the factors that keep employees happiest at work and the impact that the office environment has on their employees' productivity and wellbeing. According to the new research by Peldon Rose and are happier and work most productive in the office, 88 percent  of middle management and 84 percent of junior employees say they always or sometimes enjoy coming to work every day compared to 76 percent of C-Suite executives. In addition, junior and middle management employees are more inclined to work in the office, with 62 percent and 63 percent, respectively, saying they prefer to work in the office over at home (29 percent, 30 percent) compared to C-Suite who prefer to work at home (40 percent) rather than the office (24 percent). As a result, just a quarter of junior employees believe their office has a culture that allows them to work flexibly compared to nearly half of C-Suite.
C-suite executives also seem to be disconnected from what keeps their employees happiest at work compared to their own preferences. Junior employees and middle management rate relationships with their colleagues and peers (75 percent, 82 percent) and a good relationship with their boss (68 percent, 75 percent) as the factors that keep them happiest at work, compared to C-Suite executives (52 percent, 48 percent).
There also seems to be mixed feelings on the effect that the office environment has on staff wellbeing and retention. The majority of middle management (67 percent) and junior employees (57 percent) say their office environment has a positive impact on their happiness, compared to C-Suite executives (56 percent). Middle management (86 percent) and junior employees (80 percent) also rate the office environment as important for staff recruitment and retention compared to less than half (42 percent) of C-Suite.
This is worrying as the groups who value the office most tend to be the least engaged by their company on topics relating to the office. Younger employees feel the most neglected by their employers, with 58 percent saying they are rarely or never engaged by their company on planned changes to the office or their satisfaction with the office (54 percent), compared to middle management (43 percent, 42 percent). This may also be why the majority of employees do not feel the office is a priority for their employers, with only 15 percent of junior employees and 28 percent of middle management saying the office is a high priority to their senior team, compared to 38 percent of C-Suite executives
As C-Suite executives are typically responsible for making final decisions about the office, it is concerning that they too seem to be rarely engaged on issues involving the office, with 24 percent of C-Suite executives saying they are rarely or never engaged on planned changes or with their satisfaction with the office (36 percent).
This divide between how and what employees value in the workplace can affect employee contentment and happiness as the office should be a source of inspiration and motivation to help improve knowledge sharing, creativity and the wellbeing of all employees.
Below, Peldon Rose reveals their four recommendations that employers should consider to boost the wellbeing, happiness and productively of staff at all levels of the organisation:
Engage your workforce
Talking to and engaging with their employees is one of the simplest and most cost-effective ways for employers to understand how the office supports the workforce, how employees use the space and how it impacts their happiness and wellbeing. Giving employees the opportunity to share their views on how the workplace will help employers translate this feedback into operational changes while boosting productivity, motivation and wellbeing.
Provide opportunities for team bonding
If employees feel that relationships are the most important factor for keeping them happy at work, then providing them with opportunities for socialising with their colleagues, including team outings, breakout spaces or even opportunities to meet and play in the office, will lead to employees who are inclined to spend more time in the workplace and with their peers.
Design an office with employees' needs in mind
When designing shared workspace environments, one rule of thumb is to always make sure that the design is intelligent and is full of bespoke, thoughtful solutions that meet your teams' dynamics and requirements. Yet C-Suite executives, management and employees all say they are missing the key amenities that they value most in the workplace, including outdoor spaces (84 percent, 77 percent, 80 percent), showers or changing facilities (57 percent, 48 percent, 58 percent) and a kitchen (72 percent, 55 percent, 55 percent). The ideal office is usually one that has both quiet spaces as well as fun, collaborative areas, as it provides a balance for employees to get the quiet time they need yet allows them to socialise and bond with their teams. When employees are provided multipurpose spaces, including a coffee bar, kitchen, outdoor spaces or a gym, it allows them to be social and they will become more engaged with their work.
Promote a culture and office that allows for flexible working
Employees at all levels prefer the choice to work how and where suits their personal needs, yet junior employees are not provided the flexibility they need to work remotely. Only a quarter (26 percent) of junior employees believe their office has a culture that allows them to work flexibly compared to 39 percent of middle managers and 44 percent of C-Suite. Employers would do well to provide an office environment that encourage employees to use the space in a way that suits their work habits while giving them the space to do so. This can be done through incorporating extra seating, breakout spaces and even improving a company's tech capabilities.
Jitesh Patel, Chief Executive, Peldon Rose, the workplace design specialists, commented: "Employers must realise that what suits them in the workplace won't always work for their colleagues and that their staff may in fact have very differing preferences for what makes them happy and productive in the workplace. Notably, our survey revealed that employees across levels have different preferences for working, so employers need to try and ensure that their office space fosters a culture and environment that does not alienate any groups.
"While some teams may thrive in a more collaborative setting, others could find this hinders their productivity and may prefer breakout rooms or quite spaces. Employers need to understand that their workforce is made up of many different personalities with varying work habits, so when it comes to designing an office space, a one size fits all approach will not work and they need to create an office environment that accommodates their workforce's generational differences. An effective workplace consultancy and change management programme is the key for success to help ensure everything and everyone is properly considered at the outset."