December 4, 2015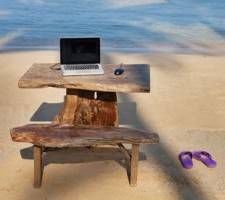 It's become an accepted piece of wisdom that at the top of every employee's wish list when it comes to their working conditions is more flexible working. That might be not entirely true according to a new study of employees and managers carried out by recruitment firm Robert Half. The report suggest there is a significant mismatch between what employees want and what employers think they would like when it comes to holidays and flexible working and other conditions. Topping the wish list for employees is more holiday and annual leave, ranked most popular perk by almost four in 10 (38 percent) respondents and ahead of more flexible working hours (28 percent), more training or professional development opportunities (16 percent), home working/telecommuting (12 percent) and other corporate services such as ironing services or fitness centre (3 percent).
Employees were asked: "Other than additional compensation, which one of the following do you believe would top your employees' wish lists when it comes to their jobs next year?" Their responses were:
More holiday/annual leave – 38 percent
More flexible working hours – 28 percent
More training or professional development opportunities – 16 percent
Home office/telecommuting – 12 percent
Other corporate perks, such as ironing services or a subsidised gym – 3 percent
The findings are in complete contrast to views from employers, who believe that the number one perk in demand from employees is flexible working hours, cited by 56 percent of finance directors surveyed by Robert Half – exactly twice the proportion of employees who actually want flexibility.
Less than a quarter (23 percent) of CFOs believe that extra holidays top employees' wish list, while 9 percent think employees would rather work from home and 5 percent think employees would like to have more corporate services.  Interestingly, half the proportion of CFOs (8 percent) as employees (16 percent) thought that more training and professional services would be most in demand.
CFOs were asked: "Other than additional compensation, which one of the following do you believe would top your employees' wish lists when it comes to their jobs next year?"
More flexible working hours – 56 percent
More holiday/annual leave – 23 percent
Home office/telecommuting – 9 percent
More training or professional development opportunities – 8 percent
Other corporate perks, such as ironing services or a subsidised gym – 5 percent
Phil Sheridan, Managing Director, Robert Half UK said: "The focus on employee recruitment and retention sharpens in a robust economy and many executives may be undervaluing a perk their workforce wants most. Flexible working is slowly becoming an expectation for many employees, particularly those negotiating their job offer, while having additional paid time off is even more highly valued. It's tempting in our 'always-on' economy to let the lines between home life and work become blurred, but it's worth remembering that to maintain a productive and loyal workforce, employers need to give their staff the opportunity to switch off and recharge.  Offering extra time off over the holidays will mean that employees return with higher levels of motivation and morale in January."