February 27, 2015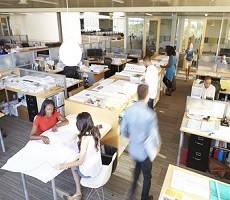 Nearly three quarters of employers that offer staff the opportunity to work flexibly are failing to reorganise their workplaces to reflect the new ways of working. Research commissioned by US based AV company Barco, found that while 86 percent of organisations indicated a remote working approach was being used within their business; rather than using this policy to reduce desk space, 73 percent of organisations admitted they still had allocated desks. This is despite the fact that the top three drivers for unifying communications are to increase productivity (51%), reduce costs (44%), and increase collaboration (27%). And though the BYOD trend is continuing, with half (50%) saying personal laptops and personal tablets (45.2 %) are being used in the workplace; 82 percent of those surveyed said that laptops are still company issued.
IT decision makers across a range of businesses were questioned on whether "A mobile workforce and multi-device environment requires new approaches to effective collaboration."
Remote working was high on the agenda, and ranked in the top three areas of priority for IT departments, behind data security and network management.
Companies certainly recognise the potential of a unified communication strategy, as more than half (52 per cent) have a dedicated budget for unified communication and collaboration technologies and that budget is either increasing or remaining the same.
According to a Barco spokesperson: "What is clear from the results is that most companies are on the right track and realise the multiple benefits of having unified communications and a more collaborative workforce, yet there is still much more work to be done for businesses to be able to tap into its full potential.
"It's time for companies to put more unification into their unifications strategy. There is an appetite for it, and in the future organisations need to tie all aspects of unified communications together. In our experience, selecting the right technology can be key to improving collaboration amongst colleagues – and by harnessing the many advantages of mobile workers and BYOD there can be greater productivity, better staff morale and a far more effective workforce."
When asked specifically about unified communications and collaboration technologies, those surveyed felt it was crucial that any technology is user friendly, cost effective and easy to install.
Capabilities that have the most impact on effective meeting collaboration are video conferencing quality (38%), wireless access to the company network (31%) and the use of multiple screen (27%).