October 6, 2016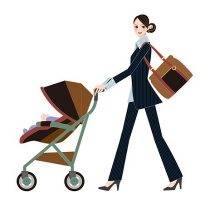 When it comes to working mothers, too many US organisations continue to follow policies created in the 1990s, if not the 1950s. In the report Women in America: Work and Life Well-Lived by Gallup one factor emerges that has the greatest influence on women's decision to stay in the workforce or leave, children. In the US, more than 5 million jobs are available, but women continue to drop out of the workforce in troubling numbers because despite employers  introducing family friendly policies their cultures remain out of date. Because of this, far less than half of female employees polled (35 percent) are engaged in their jobs, and nearly half of women say they are looking for or considering new jobs. Organisations have to create cultures that enable women to maximise their full potential in and out of the workplace; and those that continue to enforce outdated policies will not be able to keep up with employers who offer more choice and flexibility and greater trust and transparency.
According to the findings 60 percent of women rate greater work-life balance and better personal well-being as a "very important" attribute in a new job. While 45 percent of women say they would like to become CEO or have a position in senior management or leadership; over half (54 percent) of employed women with a child under the age of 18 say their desire to stay home with their children is a "major reason" why they are not working. Other factors are considerably less relevant, including the need to earn money, the cost of childcare and the ability to find a good job.
But some stay-at-home mothers might consider returning to work if the workplace was more accommodating. When asked, 53 percent of stay-at-home mothers say flexible hours or work schedules are a "major factor" in their ability to take a job. Four in 10 stay-at-home mothers say the same about being able to work from home when necessary.
Pay is somewhat less of an issue for this group. Thirty-four percent of stay-at-home mothers say earning enough money to pay for childcare is a "major factor" in their employment decisions.
Among currently working mothers, 40 percent say they would prefer to work outside the home, and 54 percent would prefer to stay home. The figures are almost identical among mothers who aren't currently employed: 37 percent would prefer to work outside the home, while 57 percent would rather stay home.
Among fathers, there is almost no difference in lifestyle preference by employment status. At least 70 percent of fathers who are employed — as well as fathers who are not employed – would rather work outside the home than stay home.
Women in America: Work and Life Well-Lived warns that to attract, retain and engage a modern workforce, business leaders must be courageous and begin to examine, if not overhaul, their organizational policies, strategies, cultures and values.