June 9, 2022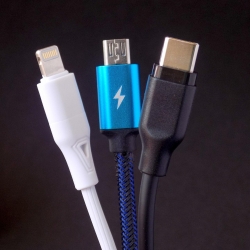 By autumn 2024, USB Type-C will become the common charging port for all mobile phones, tablets and cameras in the EU, Parliament and Council negotiators have agreed. The provisional agreement on the amended Radio Equipment Directive, establishes a single charging solution for certain electronic devices. This law is a part of a broader EU effort to make products in the bloc more sustainable, to reduce electronic waste, and make consumers' lives easier.
Under the new rules, consumers will no longer need a different charging device and cable every time they purchase a new device, and can use one single charger for all of their small and medium-sized portable electronic devices. Mobile phones, tablets, e-readers, earbuds, digital cameras, headphones and headsets, handheld videogame consoles and portable speakers that are rechargeable via a wired cable will have to be equipped with a USB Type-C charging port, regardless of their manufacturer. Laptops will also have to be adapted to the requirements by 40 months after the entry into force.
The charging speed is also harmonised for devices that support fast charging, allowing users to charge their devices at the same speed with any compatible charger. Consumers will be provided with clear information on the charging characteristics of new devices, making it easier for them to see whether their existing chargers are compatible. Buyers will also be able to choose whether they want to purchase new electronic equipment with or without a charging device.
The EU believes that these new obligations will lead to more re-use of chargers and will help consumers save up to 250 million euro a year on unnecessary charger purchases. Disposed of and unused chargers are estimated to represent about 11,000 tonnes of e-waste annually.
In response, the UK government has said it has no plans to enact similar legislation, although that may be moot if it is standardised in other European markets.
Apple has been a critic of the legislation since it was first proposed last year. "We remain concerned that strict regulation mandating just one type of connector stifles innovation rather than encouraging it, which in turn will harm consumers in Europe and around the world," the firm told the BBC in September 2021. Its proprietary Lightning charging cable has been in use since 2012.
The rule change does not apply to wireless charging of course, and Apple is rumoured to be trialling USB-C ports for the EU market at least, which accounts for a quarter of its global sales.