November 16, 2017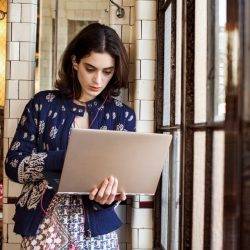 A fear of change among staff is putting British companies at risk, according to new research that looks at how businesses are preparing for a technology-led future. A significant number of workers from across the UK admitted to anxiety and concerns over job security when their firms introduced technology to help them in their roles. Just under half (49 percent) of the people surveyed by Microsoft, Goldsmiths, University of London and YouGov said they feared the change that comes with digital transformation. Sixty-one percent said they felt anxious when bosses brought in new technology, while 59 percent were worried about the impact the automation of tasks would have on their job.
However, the report – entitled Creating a Culture of Digital Transformation – also claims that failing to introduce artificial intelligence, machine learning, cloud computing and other modern ways of working could see companies falling behind their rivals and leaving them increasingly out of touch with their customers.
Clare Barclay, Microsoft UK's Chief Operating Officer, said the results of the study, one of the most extensive reports ever conducted on the country's digital transformation, were a "major concern".
"We are seeing a growing divide between those organisations that are geared towards driving the cultural change that supports technology investments, and those that aren't," said Barclay. "This is a major concern – evidence suggests that if you don't address the human elements of change, successful transformation is unlikely to happen. Organisations must have the right culture and change programme in place to unlock the true value of technology. Creating a culture in which technology blends with human potential is where the magic happens."
Despite staff concerns, less than a quarter (23%) of companies are investing in cultural change programmes to help their workforces adapt to the "fourth industrial revolution", where customers want more mobile and personalised solutions.
"Digital transformation is not just a technology deployment or an IT exercise, it's a people exercise. Leaders of all organisations must therefore embrace cultural transformation from the top and explore the behavioural shifts needed to bring about lasting change," said Cindy Rose, Microsoft UK Chief Executive. "This comprehensive report shows there is a deep-rooted connection between those organisations that invest in nurturing cultural change and those that are able to fully unlock the value of their technology investments."
Just 53% of organisations in the UK are investing in digital transformation programmes, the study of 1,000 business leaders and employees found. This is despite the same number expecting their industries to face disruption from technology within the next two years.
Research from Microsoft last year found that nearly half of UK bosses believe they have to embrace digital transformation or see their company fail within the next five years.
The British Medical Association (BMA) features in the current study. The BMA, which represents more than 160,000 practising doctors, has overhauled its IT infrastructure over the past few years, bringing in new online tools and websites that have helped staff collaborate more, while reducing workloads.
"Four years ago, our workforce had not experienced technological change like what we hoped to undertake," said Patrick Murphy, Director of Finance and Corporate Services. "We needed to pave the way for change and invest significantly in change management to see the transformation required.
"It takes time to embed itself into people's daily work lives but, by getting an insight into how people use our systems, we reframed the way our staff do things. It is critical to create an environment that allows for positive engagement so people are more informed, know what's going on around the business and what we're saying to the outside world. We created a sense of engagement, which enriches the experience of working in any organisation."