April 5, 2016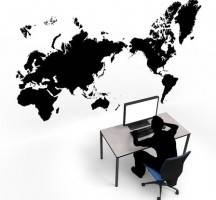 When, where, and how people work has changed dramatically over the last ten years – telecommuting has grown 103 percent over in the US and an estimated that 50 percent of people will work remotely by 2020. While many companies have begun to integrate remote work, there is a growing trend for firms to fully embrace remote work as an integral part of their business. Virtual companies that operate with fully or heavily distributed workforces now come from many industries, including accounting, health, law, marketing, non-profit, news/media, sports, travel and others. However the best sectors to find a remote post are in Computer/IT, HR/Recruiting and Education; according to the third annual list of virtual companies compiled by FlexJobs. The diversity of companies represented in this year's list, demonstrate that the remote work model can be applied regardless of company size and/or industry.
For example, Greenback Expat Tax Services provides virtual tax services, Aha! is a product roadmapping software, LoveToKnow is an online media company, Collage.com provides software tools to make custom art pieces, Tropical Travelers provides travel concierge services, TeamSnap is a resource for sports team management and GitHub is the world's largest code host. All are on this year's list.
This is the third list of virtual companies FlexJobs has published, and each year has represented the growth of and interest in remote-friendly work environments.  FlexJobs listed 26 virtual companies in 2014 and then 76 virtual companies in 2015 and now up to 125 virtual companies in this year's list, indicating that more businesses are turning to remote work as a sustainable and legitimate workplace model.
"The bottom line is that a virtual company can be just as viable, professional, and successful as a traditional on-site company, and even more so," said Sara Sutton Fell, founder and CEO of FlexJobs.
"Working outside the confines of the traditional brick and mortar environment can open doors to re-evaluate the fundamental ways work is viewed and done. In FlexJobs' own virtual environment, we have built new and useful processes, learned how to collaborate creatively with each other, and grown a healthy, vibrant company culture, not in spite of our lack of headquarters, but largely because of it."
The growing popularity of telecommuting has also seen:
Click here to see the full list of the 125 companies.