June 22, 2017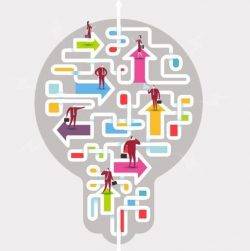 Britain's biggest businesses risk being disrupted by the pace of technological change because their senior leaders are paying lip service to the need for digital transformation, according to a study from tech startup AVADO. The study of senior managers responsible for the learning and development (L&D) of staff at Britain's biggest firms with turnovers of over £100m found that the need for digital transformation is accepted, almost universally, among respondents. 86 percent say they have assessed the business risk of not taking action and 88 percent have taken steps to address this. Yet, despite 93 percent of L&D professionals saying a digital transformation strategy is in place, the report suggests critical top down buy-in is missing. Yet, a second report from recruiters Robert Half suggests that a growing number of firms in the key finance sector are now actively recruiting to improve their digital transformation strategy.
According to AVADO, for 43 percent of businesses, the Chief Information Officer (CIO) is heading up digital change with just under a quarter (24 percent) assigning responsibility to a Chief Digital Officer (CDO). For a fifth (22 percent) of businesses the Chief Executive Officer (CEO) is leading the drive towards digital transformation.
Despite the majority of businesses having a C-suite exec in charge of digital transformation, their commitment is in question. Over half (55 percent) of L&D professionals believe C-suite execs only pay lip service to transformation.  This lack of commitment from the top has repercussions further down the organisation, with a fifth (21 percent) of L&D respondents feeling powerless to influence change.
Businesses claim that upskilling workforces is a priority, with 81 percent of respondents having a digital learning programme in place. However, investment in digital skills isn't being shared equally across the business. Just under three in ten businesses (28 percent) provide digital training across their entire business. For over 40 percent of businesses, the lion's share is allocated to the sales and marketing department.

Just one fifth (19 percent) of overall training budgets is spent on digital. Delivering effective learning outcomes that are measurable is a concern for L&D professionals. For over a fifth (22 percent) of respondents the digital training undertaken to date hasn't delivered tangible and measurable ROI.  A quarter of L&D managers say their organisation doesn't benchmark their skill levels and almost a fifth (18 percent) report low levels of employee engagement in their training programmes. Just a quarter (26 percent) of organisations incorporate digital literacy into staff performance reviews
However, change may be coming, according to a new study from recruiters Robert Half. It claims that  organisations are actively creating new positions to facilitate digital transformation  efforts within the finance function over the next 12 months, reveals Robert Half's report Digital transformation and the future of hiring. The majority of UK CFOs (68 percent) have revealed that finance automation required for digitalisation will drive recruitment as a significant shift in skills is required.
Overall, eight in 10 (81 percent) CFOs are planning to recruit to fill the prospective skills gap in digital transformation projects. Nearly a third (31 percent) of CFOs are adding new positions to implement digitisation efforts, and half (50 percent) are planning to fill any vacant positions over the next 12 months. In the short-term, interim professionals will be used to augment the current skills available in-house. In total, 56 percent of finance executives plan to hire interim and temporary staff to help manage change.
"Digitalisation requires strategic-level thinking and while organisations look towards creating more expansive roles they must also address growing demands in the workplace," explained Matt Weston, Director at Robert Half UK. "As businesses need to act quickly to respond to new opportunities, adopting a flexible recruitment strategy allows for the augmentation of existing employees with specialist interim professionals with the right skills at the right time."
The report also warns the talent required to deliver on digital transformation requires a shift in skills. Data analysis (42 percent), communication (40 percent), problem-solving (37 percent), strategic vision (34 percent), commercial/business acumen (33 percent) and IT (32 percent) are all key skills required to effectively execute digitalisation and critical to cultivating a robust workforce during the period of change.
"It's important for employees to remember that change is the only constant in the workplace of the future. As digital transformation initiatives evolve, professionals should look adopt a principle of life-long learning to ensure their skills remain current," concludes Weston.