May 21, 2013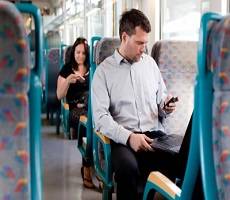 May 2013 played host to Work Wise Week, an initiative from Work Wise UK that aimed to promote and encourage smarter working practices to the benefit of businesses and employees. Cultural, economic and social changes are affecting attitudes to how we balance work and personal lives, and increasingly, mobility and technology is shifting away the need for the traditional 9-5 work patterns, replacing it with more flexible working practices. There are many benefits of flexible working and, as such, we are seeing more businesses starting to understand that forcing employees to work in an office does not guarantee productivity.
In support of this, mobile operator 02 recently published research which revealed that three-quarters of employees admit they are most productive when they can change when and where they work.
To capitalise on the benefits of flexible working, organisations should look to take this one step further and analyse their workplace occupancy – there is little point in having a scheme that allows employees to work flexibly if businesses aren't going to maximise on the potential cost savings and energy reductions that such schemes can bring.
Offices tend to be 45 per cent vacant during office hours, and often 100 per cent vacant outside office hours, so by measuring workplace occupancy, employers can align their resources accordingly. By taking measures to monitor which spaces are being used when, and by how many people, organisations may be surprised to see the changes that can be made.
These days, businesses have access to the latest technology that can determine how much office space is actually being utilised effectively at any given time. Companies therefore have a huge opportunity to increase employee satisfaction while decreasing their property footprint and reducing costs. To encourage working from home – install a hot-desk environment which enables different workers to use a single work station at different times. Using this system, employees could arrange to come into their physical office at times to suit them and, for the rest of the time, work remotely. This could substantially reduce the space required for a company's office – and reduce costs significantly.
Alternatively, if a business chooses not to allow its employees to work remotely, they can offer greater flexibility in other ways. For instance, many businesses are now providing their employees with smartphone enabled business-to-employee apps which can help to improve the efficiency of their day-to-day work routine and make sure that the organisation is utilising its own resources effectively.
Business-to-employee apps can provide employees with a level of flexibility that would have been unthinkable just five years ago. For instance, it is now possible for employees to reserve a hot-desk, log a maintenance request and to book meeting rooms – all at the touch of a button on their phone.
The evolution of technology means forward thinking companies can increasingly manage workspace supply and changing demand. Office space in the future is likely to incorporate far more innovative workplace design and technology to support flexible working, reflecting the different ways in which people like to work. By providing their employees with a variety of options, rather than using a one-style-suits-all approach, staff will be able to manage and decide the way in which they work whether it is remotely, at their desk, or in a hot-desk environment. All of this will inevitably contribute to increased productivity.
There are many different tools available right now which employers can use to promote greater staff autonomy, boost productivity, and lower costs – no matter where their employees happen to be based. By taking the time to analyse the way an organisation operates, its occupancy and how its employees like to work, companies may find flexible working could provide great benefits to the business and its employees.
Work Wise Week provided a reason for companies to consider the future of their workplace and the opportunities available, but this is something that should always be on the minds of office managers.
________________________________________

Tim Clapham is marketing director at integrated workplace software provider Planon.