May 12, 2022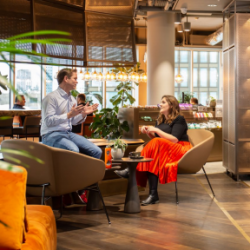 Flexible working is the new hybrid working as a third of European workers would decline a job if flexible hours were not offered. That is the key claim of a new report from Owl Labs, a collaborative technology company. The annual State of Hybrid Work study polled 10,000 full-time employees across UK, Germany, France, Netherlands and Scandinavia – which suggests that flexibility is key to retaining top talent in 2022 and beyond. Over a third (37 percent) of European employees are prepared to decline a job if flexible hours are not offered and just over two thirds (69 percent) would accept a pay cut to have flexible hours.
According to the report, offering flexibility and employee-first benefits are key to stemming the 'Great Resignation' which saw one third of office workers change jobs in the past two years. 36 percent of employees would remain at their current company if both flexible working hours or a four-day work week were introduced, while over a quarter (27 percent) would stay with their current employer if they were given flexibility regarding where they work.
The nine-to-five is "all but dead in today's working world", the authors believe. Almost eight in ten (79 percent) of Europeans feel they are just as, if not, more productive while working remotely compared to working from the office. While on average, the ideal work/office balance works out at three days in the office and two days working remotely, nearly a third (31 percent) of employees are worried they will be asked to return to the office full time with no hybrid option.
European employees are eager to increase the number of days they work remotely, whilst full-time remote employees would like to work from the office one day a week showing that hybrid is the preferred option across the board. Full-time office workers' ideal split in France and the Netherlands would be 1.5 days remote and 3.5 days in the office, whilst in the UK, the Nordics and Germany their ideal split was 1.8 days versus 3.2 days respectively.
Over a quarter (28 percent) of European workers would not accept a job offer if they were expected to be in the office full time, while under a fifth (18 percent) would decline a new job opportunity if the position was fully remote. UK workers are the most likely (34 percent) to decline a job if they had to return to the office full time.
Consequently, almost one in two (46 percent) employees are concerned that working remotely will mean they have less of a say at work and will miss out on growth opportunities. "Proximity bias" isn't exclusive to managers, over half (51 percent) of employees at all levels also said that they are more likely to engage with those they physically work with. French and British workers are most likely (57 percent respectively) to defer to people in the office. This is largely due to the fact that a third (33 percent) of European office workers find building relationships with remote colleagues more difficult. In fact, 47 percent cited infrequent small talk and 42 percent stated a lack of face-to-face socialising as the main reasons for making remote interactions challenging.