May 12, 2022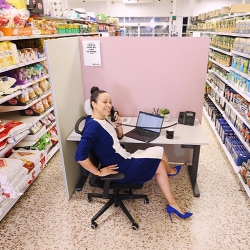 Remote workers might soon be able to do their jobs and shop for groceries at the same time, under a new "Spaces" project between Tesco and flexible office operator IWG. A trial at a branch of Tesco in New Malden that will start later in this month and will accommodate 12 private desks, 30 co-working spaces and a meeting room. The 3,800 sq ft space within the store would normally have been used for electrical goods, music, and other forms of entertainment, most of which are now mainly purchased online. The aim is to make better use of floor space and, if successful, Tesco stores across the country could become flexible working hubs.
"We are pleased to be working with IWG to offer customers the chance to work more flexibly from their local Tesco," said Louise Goodland, head of strategic partnerships at Tesco. "We are always looking to serve our customers and communities better and we will be interested to see how they respond to this new opportunity."
This is part of IWG's plans to add 1,000 new locations to its global flexible working network in 2022 as the demand for hybrid working accelerates. Other new IWG locations across South London will include Twickenham, Sutton, and the revamped Battersea Power Station. All IWG members have access to the rapidly expanding network of 300 centres across the UK and thousands worldwide.
The deal is the first collaboration between IWG's Spaces brand and Tesco. The move reflects "part of a shift towards creating more self-sustaining, vibrant local communities that will greatly improve the work-life balance of local workers as well as having a positive impact on the environment by reducing the need for daily and costly commutes into central London".
Research undertaken by IWG suggests that three-quarters (72 percent) of workers would prefer the long-term ability to work flexibly togoing back to the office five days a week, with a 10 percent pay rise.  The growth of IWG's network has been increasingly focused on suburban locations, emphasising the demand for workspace solutions in the heart of local communities. About  77 percent of employees say a place to work closer to home is a must-have for their next job move, with workers four times more likely to choose an office close to home than a city centre.
IWG recently launched a new retail-based office-space concept 'OpenDesks'. This offers optimal flexibility and greater privacy than traditional co-working, using magnetic screens to create privacy, and cluster formations can be created for larger teams or for meetings. Each workspace can be accessed using Spaces' mobile app, providing 24/7 working for members.
Commenting on the move, Raj Krishnamurthy, Freespace CEO said: "We have also seen how some organisations are becoming 'multifunctional' and open for longer hours, which is good news for the retail and hospitality outlets in the nearest proximity. People visiting these offices are rarely working the basic 9-5 anymore. In some cases, they come in early and finish early. In others, they come in later and leave later. Over the course of the day, the duration of footfall naturally increases as buildings are open for longer to accommodate these different working patterns.
"In terms of becoming multifunctional, we've seen on the high street how, for example, hairdressers become bars in the evening. Businesses are now utilising similar tactics by offering additional services in their commercial space. It's a matter of right-sizing or optimising the office conditions so that teams and individuals can maximise their time in the office, but then looking at how to enhance this further in a completely different way. Organisations are thinking more innovatively – and this is good news for the communities surrounding them."
Meanwhile Andrew Mawson of Advanced Workplace Associates said: "As the 9-5 models of working give way to more hybrid models, the way organisations consider office space will have to change. The days of desk ownership are done. Offices are expensive fixed costs that generate large amounts of carbon. If they are not adding value they'll be jettisoned. Pre-pandemic, offices were poorly utilised with a traditional desk being only occupied 60 percent of the time it was available between 8am and 8pm in a normal week. I expect to see organisations innovating to use office space in a more efficient manner to release unused space and time for monetisation. Large occupiers with an overhang of office space will need to look to a variety of innovative models in a market in which the atomic size of an organisations office footprint might be as little as 30 percent of its pre-pandemic need."