February 25, 2016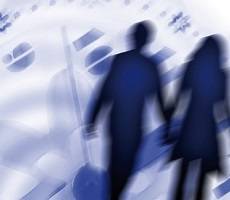 The UK is on the verge of a flexible working 'tipping point' with more than half of employers offering staff more choice of where to work. Working anywhere: A winning formula for good work? produced by Lancaster University's Work Foundation, and commissioned by Citrix, reveals that 2017 will be the time when over half of organisations in the UK are likely to have adopted flexible working. It also predicts that over 70 percent of organisations will have followed suit by 2020. The Work Foundation, which hosted interviews with academics, business leaders and the public sector to glean insights around the theme of flexible working, supported by research with 500 managerial level employees within medium to large businesses, warns that there is still much to be done to address attitudes towards flexible working, from ensuring people don't end up working longer hours to dealing with feelings of 'disconnect'.
Sir Cary Cooper, professor of organisational psychology and health at Manchester Business School, said: "A successful mobile working strategy will incorporate a mix of influences – cultural, social, personal, technical and economic – and its adoption can only be enabled, and must never be enforced by an organisation.
"By enabling a culture whereby working anywhere is the rule – rather than the exception – employers immediately put trust at the heart of their company ethos – a key to providing a happier and more fulfilling relationship with its staff."
While growing numbers of organisations are predicted to adopt flexible working practices in the near future, the report indicates that there are still a number of issues to be addressed if employees and businesses are to fully reap the rewards of working away from the office.
For example, more than a third (37 percent) of managers believe implementing mobile working will result in them working longer hours, one in five (22 percent) say it makes them feel disconnected from their team and 28 percent felt it could block them from overseeing the work of others.
Alongside this, a quarter (24 percent) claimed all work in their organisation is currently carried out in the company premises, suggesting a cultural barrier blocking working 'on the go' that requires a change of mind set to overcome.
The report also reveals that managers believe implementing flexible working will create significant work for the HR department with three quarters (75 percent) claiming it will be challenging for their organisation, 84 percent believing it will require changes to performance management and over four in five (82 percent) even believing it will require changes to employment terms and conditions.
A winning formula
While managers seem to have some concerns regarding the widespread adoption of mobile working, the research suggests they do acknowledge its benefits as well. For example, two fifths (44 percent) believe that mobile working allows them to get more work done, 42 percent cited feeling more trusted and over a third (35 percent) said that mobile working is essential for their work / life balance and reduces time spent travelling.
The Work Foundation highlights four principal reasons why organisations should take steps to develop and implement such policies with their employees: increased productivity, improved employee wellbeing, talent attraction and retention, and reduction in accommodation costs.
The study suggests the most successful forms of mobile working will be achieved when the benefits to the organisation and the individual are aligned and enshrined in a formal agreement. As a result, implementing flexible working requires three key commitments:
Leadership: Chief Executives and board members should set an example with their own approach to mobile working and wellbeing. In doing so, they should set out to lead cultural change in which employees are measured on outputs rather than visibility – building trust across the organisation.
A new approach to people policies: More than 50 per cent of survey respondents believed the adoption of mobile working would require changes to terms and conditions and performance management. These policies should be transparent and visibly agreed with staff, with focus on outputs and outcomes rather than 'presenteeism' and hours worked.
Careful planning: The introduction of new technology and new ways of working takes time, careful planning and implementation. It is critical to ensure that individuals are comfortable with their technology and recognise individual preferences.
Dr Cathy Garner, director of The Work Foundation and report author, said: "The evidence is showing a clear trend towards a more flexible way of working in the UK as the hurdles are overcome by fresh innovations in technology and people management.
"We believe that employees and their employers will benefit from the 'virtuous circle' created, whereby improved job design, work organisation and trusting relationships lead to healthier, happier and more productive workplaces."
The report also references a number of examples of flexible working at organisations including BT, Stanford University and the Children and Family Court Advisory and Support Service . These experiments resulted in largescale positive benefits – both for organisations and staff – such as improved productivity, a happier workforce and reduced staff turnover.