August 12, 2018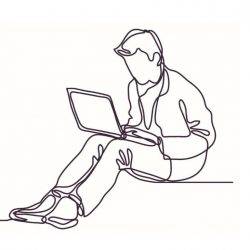 A study of the wellbeing of workers in the so-called gig economy from academics at Oxford University claims that they are stressed, isolated, micro-managed by algorithms and face constant downward pressure on their incomes. The focus of the research was on workers contracted by digital platforms and subject to selection by algorithms. The study, Good Gig, Bad Big: Autonomy and Algorithmic Control in the Global Gig Economy, looked at the impact on the personal wellbeing of computer programmers, translators, researchers and people in similar roles contracted through online freelance platforms.
The researchers estimate that around 70 million people are registered on these sites worldwide. Approximately 750 people from South East Asia and Africa were selected for the study through two unnamed work platforms. All those selected had to have worked through the platforms to validate their experiences.
There were some positives cited by the respondents. A large majority (72 percent) of respondents said they enjoyed the ability to choose and change the order in which they undertook online tasks, and 74 percent said they were able to choose or change their methods of work.
However, the study also found that the lack of collective bargaining, the competitive, globalised nature of the marketplace, downward pressure on incomes and the impact of algorithms led to a highly pressurised working culture in which overwork and exhaustion are commonplace. In addition, the majority worked from home so felt isolated.
The study also suggests that the global marketplace leads to an oversupply of labour, with 54 percent of respondents reporting there was not enough work available and just a fifth (20 percent) disagreeing. Similarly, respondents also felt that management by algorithm constantly threatens the workers with loss of future work.
Informants stressed the importance of maintaining a high average rating and good accuracy scores. Whereas Uber's algorithmic is designed to dismisses workers with low ratings, online labour platforms use algorithms to filter work away from those with low ratings, thus gradually making work less viable for those affected.
Respondents also reported that the work could be highly intense, with a majority (54 percent) of them saying they had to work at very high speed; 60 percent working to tight deadlines; and more than a fifth (22 percent) experiencing pain as a result of their work.
"Our findings demonstrate evidence that the autonomy of working in the gig economy often comes at the price of long, irregular and anti-social hours, which can lead to sleep deprivation and exhaustion," said Dr. Alex Wood, co-author of the paper, commenting in a statement. "While gig work takes place around the world, employers tend to be from the U.K. and other high-income Western countries, exacerbating the problem for workers in lower-income countries who have to compensate for time differences.
"The competitive nature of online labour platforms leads to high-intensity work, requiring workers to complete as many gigs as possible as quickly as they can and meet the demands of multiple clients no matter how unreasonable."
The study also highlights the contradictions inherent in the gig economy's "flexible working" narrative — with the researchers noting that while algorithms do not formally control where workers work, in reality remote platform workers may have "little real choice but to work from home, and this can lead to a lack of social contact and feelings of social isolation."
"The autonomy resulting from algorithmic control can lead to overwork, sleep deprivation and exhaustion as a consequence of the weak structural power of workers vis-a-vis clients," concludes the study "This weak structural power is an outcome of platform-based rating and ranking systems enabling a form of control which is able to overcome the spatial and temporal barriers that non-proximity places on the effectiveness of direct labour process surveillance and supervision. Online labour platforms thus facilitate clients in connecting with a largely unregulated global oversupply of labour."