January 5, 2018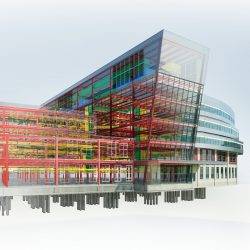 The global BIM market was valued at $3.6 billion in 2016, and is projected to reach $18.8 billion by 2024, growing at a compound annual growth rate (CAGR) of 22.9 percent from 2016 to 2024. This is according to the report Global Building Information Modelling Market. In 2016, the BIM software segment generated the highest revenue share of $2.7 bn, growing at a CAGR of 23.4 percent. Among major regions, North America is currently leading the BIM market with the revenue of $1.07 bn, however, Europe and Asia Pacific are expected to surpass the North American market by 2021. According to the report, the emerging countries of Asia Pacific and Europe will experience a steep growth in the market because of infrastructure developments. The rise in population and the requirement for new buildings and structures will lead to a hike in the growth of the market in countries such as India and China.
Cloud-based BIM is a type of software-as-a-service prominent among small and medium sized enterprises, as the prices associated with services, operational costs, licenses and subscription costs, storage, and bandwidth are lower. It is a software licensing and delivery model and is also referred to as on-demand software. These cloud-based versions are beneficial as they are easily available at affordable rates.
North America leads the BIM market with a market share of nearly 35 percent in 2016, and revenue of $1.07 bn in 2015. Residential and commercial buildings are the major reason for the market growth. Growing awareness about the benefits of BIM among the constructors and contractors in North America is also a key driving factor for the market.
The European market is expected to account for the second largest share during the forecast period. The commercial segment is the largest application area for BIM in Europe, and is expected to grow at the CAGR of 24.4 percent during the forecast period; however, infrastructure is expected to witness the fastest growth.
Key findings of the report include:
The market is expected to grow at a remarkable rate due to government initiatives mandating the adoption of BIM software for construction projects.
The software segment will continue to lead the global BIM market with more than 70 percent of the total market share.
The infrastructure segment is expected to grow at the fastest CAGR of 25.2 percent during the forecast period.
The cloud-based deployment model is expected to lead the market throughout the forecast period as a result of its cost-effectiveness and easy availability.