August 15, 2018
Anybody who doubts the importance of work and working culture to people's lives should look at the resistance to President Macron's mooted changes to labour laws. His attempts to modernise and liberalise French workplace legislation marked the first cracks in his reputation and brought millions of French workers to the streets as part of a national strike.However, one change to French legislation that met with little or no resistance earlier this year was a new right to avoid work emails outside working hours. Under the legislation, firms with more than 50 workers will be obliged to draw up a charter of good conduct, setting out the hours when staff are not supposed to send or respond to emails as they seek a right to disconnect.
France is not alone in this as awareness grows of the problems associated with long working hours, most of them unpaid. Some of the risks associated with the use of technology, often right up till bedtime include disrupted sleep patterns, depression, burnout and relationship problems.
And it's not even as if long hours equate to greater productivity. In fact, there is some evidence to suggest that long hours have an inverse relationship with productivity. The UK has one of the longest working weeks in the developed world and yet also has persistently low levels of productivity. According to a 2014 study from Stanford University, employee output falls sharply after a 50-hour work-week, and falls off a cliff after 55 hours. Anybody who puts in 70 hours produces literally nothing more with those extra 15 hours.
It's also not apparent that excessive hours do not necessarily do anything for career prospects. In a study of consultants by Erin Reid, a professor at Boston University's Questrom School of Business, managers could not tell the difference between employees who worked 80 hours a week and those who just pretended to. The study found that people who transparently worked fewer hours were penalised, but could find no evidence that these people were less productive or that those who put in extra hours actually achieved more.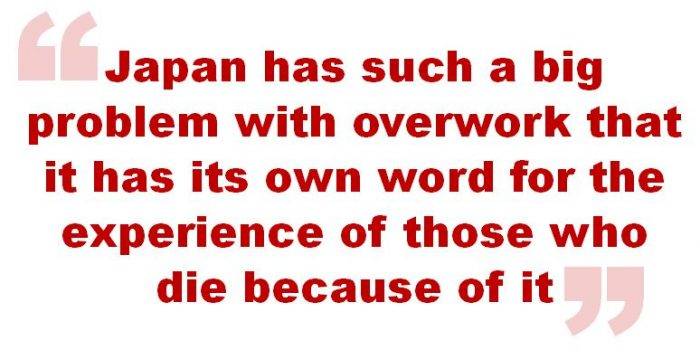 Japan has such a big problem with overwork that it has its own word for the experience of those who die because of it. Now even the Japanese are at breaking point with long hours culture that leads to so many cases of 'karoshi', or death from overworking. Yet, to Western eyes the proposals to address the issue still seem inadequate. Proposed new legislation would restrict overtime to an average of 60 hours a month, with a 100-hour limit in busy periods.
This is not unusual by Japanese standards. A government report from 2016 showed employees at nearly one in four companies notched up more than 80 hours of overtime a month, while staff at about one in ten workplaces did an extra 100 hours. In October, a Japanese advertising firm was fined for making employees work excessive overtime after the case of the death of a young worker called Matsuri Takahashi who killed herself in 2015. Ms Takahashi was reported to have worked around 100 hours of overtime each month for a long period of time before her death. The calls for legislation have intensified as a result.
Even in countries without such an extreme culture are feeling pressure to do something to improve the lives and wellbeing of employees. Germany's largest trade union has pushed for shorter working hours for the 3.9 million workers in the metals and electrical sectors, in a drive for a better work-life balance. Union leaders are calling for a fundamental change in the way managers deal with working time.
Once, this would have been a fairly straightforward issue of changing people's contracts. Now the issue for the majority of the workforce is how to avoid getting drawn into the digital workplace. This is open for 24 hours a day every day and companies may do little or nothing to discourage people from working whenever they like. The legislative response to this around the world centres on an idea that become known as the right to disconnect.
As we have seen, in France, the right to disconnect requires companies of a certain size to negotiate how their employees handle out-of-hours work and availability. In 2016 a similar bill was submitted to the South Korean government, with legislation currently being pushed through Parliament.
In the UK, the right to disconnect law is non-existent. Employees' rights and obligations regarding emails, or phone calls outside of working hours are likely to be a matter of contract for employees who agree to "work such additional hours as necessary to meet the needs of the business", or may constitute overtime, for certain employees.
In the UK there is no right to disconnect and no plans to introduce legislation. Although contracts may often be vague on the issue, including vague clauses stipulating that people may be expected to work the hours needed to meet the needs of the business, there is statutory protection under the Working Time Regulations 1998 although workers may waive these rights.
A similar culture exists in both Australia and the US. In the US, there is no obligation for employers or employees to limit their working hours or availability although there exists some legislative protection under the Fair Labor Standards Act (FLSA) which states that a working week is 40 hours long and work outside that period may be subject to overtime payments and that employers must track the time spend working.
As well as legislation, there is also the issue of culture. Some firms are already ahead of the curve on this, especially when it comes to email, which continues to be the biggest drain on people's time and productivity. In Germany, the car maker Daimler offers staff an auto delete function for their email while they are on holiday. Meanwhile Volkswagen has set its servers to stop delivering emails to mobile devices for some workers from 30 minutes after the end of the working day time until 30 minutes before it starts.
Ultimately, everybody has the right to disconnect whether it is enshrined in legislation or not. The culture of an organisation may sometimes – or even often – discourage people from taking up this right but it is there nevertheless and it is a right that can be enjoyed by simply not working or even turning devices off.
_________________________________
Aki Stamatis is Chairman of Fourfront Group and The United Workplace