May 24, 2015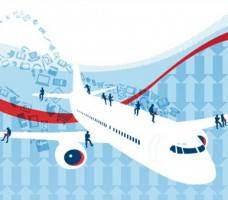 Passenger demand for in-flight Wi-Fi is growing worldwide as people become increasingly frustrated with spaces that deprive them of the full functionality of their screens and remind them of their presence in the physical world. That is the key finding of a new report from in-flight Wi-Fi provider GoGo. The latest update to its annual In-Flight Connectivity survey of passengers in seven countries also found that demand for in-flight Wi-Fi connectivity is found to be higher in Africa, Europe and the Middle East than the US, even though more than 80 percent of US carriers already offer Wi-Fi compared to an average of around 20 percent in the other countries surveyed. Conversely,  the study claims that over three quarters of passengers in Europe and the Middle East would like to be able to use on board Wi-Fi.
The provision is becoming an increasingly important provision for passengers, according to the report with a fifth  of passengers saying they 'actively search' for Wi-Fi when booking flights. The survey also claims that there is rising interest in in-flight Wi-Fi services outside the United States, with 83 percent of travellers in Europe and the Middle East professing an interest in the service, compared to 74 percent of US passengers.
Passengers in Africa, the Middle East and Europe are also more willing to pay for the service than their US counterparts, according to the survey.  Around 23 percent in those regions are more likely to pay for in-flight Wi-Fi something which the report puts down to the greater proportion of business flights in those areas.
The other driver of growing demand is the increase in the number of people who expect to be able to use devices on board. The report claims that 76 percent of US passengers board an aircraft with a Wi-Fi-enabled smartphone or tablet, with one in three of them saying they typically use at least two electronic devices during flights.