March 22, 2023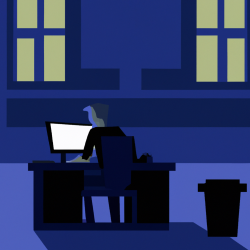 More than half (53 percent) of employees in the UK ay they feel overworked, citing factors like reaching their maximum capacity, being spread too thin, or stressing over the threat of additional work – according to a poll from Censuswide, commissioned by Visier. The survey of around 1,000 people claims that young professionals aged 25-34 say they feel most overworked, followed closely by those aged 55+. Four in ten (40 percent) employees polled would look for a new job with a better work-life balance if they felt overworked.  
Around a third of respondents said they feel their employer has increased their work responsibility outside of their initial role, and 23 percent feel their employer expects or encourages them to pick up work outside of their contracted remit. When asked about working hours, 32 percent said that their employer expects or encourages them to work outside of contracted work hours or to ask their line reports to do the same. 40 percent said their workload has led to feelings of anxiety, whilst nearly a quarter (24 percent) said they have reached their mental limit.
The cost-of-living crisis (61 percent) and family responsibilities (34 percent) were both cited as contributors to stress levels. Some 39 percent said that they'd participate in so-called "bare minimum mondays" because they aren't being compensated or appreciated for the extra work they do, whilst 15 percent said they are being asked to spend extra time in the week doing another person's work for free.
The poll also suggests that 60 percent of employees would love to find another job, but the cost-of-living crisis means that they are not willing to take the risk. Over two thirds (39 percent) revealed that moving to a four-day-working-week would be important to meet their needs, whilst 30 percent pointed to more flexible working, 37 percent compensation for the work they do, and 31 percent an early finish on a Friday.