September 11, 2018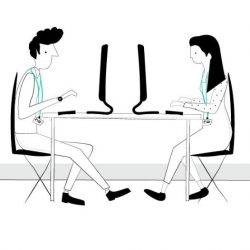 A new and major study into workplace wellbeing by the the charity Mind claims that poor mental health at work is widespread, with half (48 per cent) of all people surveyed saying they have experienced a mental health problem in their current job. The survey of more than 44,000 employees also revealed that only half of those who had experienced poor mental health had talked to their employer about it, suggesting that as many as one in four UK workers is struggling in silence. These findings are revealed as a new online Mental Health at Work 'gateway' is launched today by HRH the Duke of Cambridge. Mind, with support from The Royal Foundation, Heads Together and 11 other organisations, has created the UK-wide portal as a free resource for both employers and employees.
The gateway brings together information, advice, resources and training that workplaces can use to improve wellbeing and give employees the support they need.
In-depth analysis of the survey has revealed that offering managers proper support can make a huge difference. Managers who felt their employer supported their mental health, or actively built their skills in supporting team members with related problems, were far more likely to feel confident in promoting staff wellbeing.
Manager confidence, in turn, is closely linked with whether employees feel able to disclose. Those staff who felt their manager supported their wellbeing or could spot the signs that someone might be struggling were far more likely to say they would be able to talk about their mental health at work. Employers are taking the issue increasingly seriously, but need the resources and support to help them do it.
Paul Farmer, Chief Executive of Mind, said: "We are really proud to be involved in this piece of work, which offers a one-stop shop for anyone looking to improve mental wellbeing in their workplace and support staff with health problems. We know that employers want to do more and are starting to see mental health as a priority, but often don't know where to start. The new online Mental Health at Work gateway will change that.
"Over the last few years employers have begun to take staff wellbeing more seriously and we know that many are doing great work around mental health in the workplace. Now is the time for a step change in how we think about mental health at work. All employers need to make it a focus and support their staff. It's clear from our research that when employers support their managers properly, it can make a big difference to the whole organisation. The gateway gives managers the tools they need.
"Even small changes to policy, approach and workplace culture can make a really big difference to the mental health of those around us. No matter the size of your workplace, and no matter where you work, Mental Health at Work can help you find what you need to start or continue your journey to better workplace wellbeing for everyone."