March 16, 2016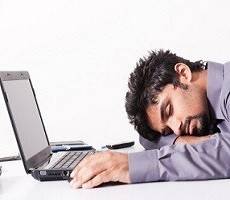 Daylight saving time began in the US on Sunday and the clocks will 'spring' forward in the UK and Europe in less than a fortnight's time (27 March). Although having more daylight is welcomed, losing even an hour's sleep can be a jolt to the system. According to a new survey from CareerBuilder, over half of workers (58 percent) already feel they don't get enough sleep, and 61 percent say lack of sleep has a negative impact on their work. Only 16 percent of workers say they actually reach the recommended goal of eight hours sleep, with the majority of workers (63 percent) logging an average of six to seven hours of sleep each night during the workweek, while 1 in 5 (21 percent) average five hours or less. But as much as insufficient sleep affects workers' jobs, the reverse is true as well: 44 percent of workers say thinking about work keeps them up at night.
For some workers, hitting the snooze button in attempt to doze a little bit longer doesn't help and one in five workers (21 percent) has called in sick for the purpose of getting extra sleep. Then there are those who simply try to catch up on sleep at the office: 2 in 5 workers (43 percent) have caught someone sleeping at work. Given this finding, it should come as no surprise that nearly 2 in 5 workers (39 percent) would take advantage of a designated "nap room" if offered at their place of work.
"Rest is an undervalued necessity these days," says Rosemary Haefner, chief human resources officer at CareerBuilder. "We see more and more workers check into the office at all hours of the day, give up vacation time and work even when they're sick. Yet it's not necessarily making us more productive, and companies are starting to recognize that. We're starting to see companies put more emphasis on employee wellness and work/life balance – whether it's providing designated 'nap rooms' for employees, encouraging them to take advantage of their vacation time or simply giving them more flexibility in their work schedules."
Sleep-deprivation doesn't just hurt workers – it hurts business, too. Three in five workers (61 percent) say lack of sleep has had an impact on their work in some way, including the following:
It makes the day go by slower: 30 percent
It makes me less motivated: 27 percent
It makes me less productive: 24 percent
It affects my memory: 17 percent
It makes me crabby with co-workers: 13 percent
It takes me longer to complete tasks: 13 percent
It makes me make mistakes: 13 percent
This survey was conducted online within the US by Harris Poll on behalf of CareerBuilder among 3,252 employees ages 18 and over.
To see a spoof movie take on the 'horrors' of daylight saving click the video below.