March 15, 2016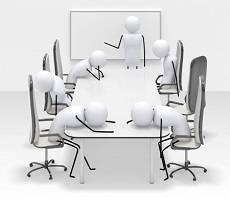 A new report from enterprise software firm Samanage, claims that US businesses are wasting up to $1.8 trillion annually on repetitive and mundane tasks that could easily be automated, leaving people free to carry out more productive and creative work.  The Samanage State of Workplace Survey, polled around 3,000 US working adults and claims that workers spend an average of 520 hours a year – more than one full day's work each week – on repetitive services and tasks that could be easily automated, such as, password reset requests, contract reviews and approvals, office supply requests and performing other simple administrative tasks. In addition to lost time and money, the survey also claims employees are skirting organisational IT policy. Outdated technology is holding employees in the modern workforce back from driving process efficiency and identifying ways to make their work life better.
One in four workers think their company's technology and policies hurt their work productivity (25.4 percent), with millennials as the largest group to believe the technology and policies at work impede productivity (30.9 percent). These technology issues are also leading employees to download and use unauthorised applications, which can cause headaches for IT managers, system problems and grave security threats.
More than one in three employees (36.8 percent) believe their company's technology is outdated, and one in five workers (18.2 percent) admitted to downloading and using an application without their IT department's knowledge. Within this group, the number of men who admitted to bringing in outside IT applications was nearly twice as high as the number of women. This can be attributed to an employee's desire to further adopt modern technologies at a pace that exceeds their company's adoption speed.
The survey results also showed employees' demands for companies to adopt productivity-increasing processes and collaboration applications. Survey respondents indicated that automating non-essential tasks (20.2 percent), having access to a more mobile-friendly device (12.2 percent) and using cloud-based apps to access work documents (9.5 percent) would help increase productivity at work.
Collaboration technology is not meeting its most fundamental requirement: collaboration. Standard technologies continue to be most regularly used over modern project management tools, with nearly two in three (63.4 percent) indicating that they continue to rely most heavily on email, while only 7.2 percent use chat technology.
"The findings clearly show that workers want change in the workplace. IT policies and access to smarter technology not only allow for automation of non-essential tasks, but for individual improvement in productivity," said Randy Drawas, Chief Marketing Officer of Samanage. "Outdated, unproductive technology is burdening US businesses and hurting their employees. In order to create a better work life, organisations need to adopt modern technologies that allows them to streamline their internal operations and provide collaborative, easy-to-use technologies that enable employees to spend more time on meaningful and impactful tasks, and far less time on the repetitive and mundane."