January 9, 2015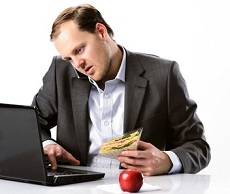 Almost two thirds of UK staff are not able to take their legally required minimum break. In a Bupa study of 2,000 full-time workers – 64 per cent claimed they are not always able to take their legally required 20-minute break when working six hours or more. Less than a third (29%) of employees are taking a full hour for lunch every day and worryingly, over a quarter (28%) of workers never take a breather of any kind during their working day. The main reason UK workers are not taking a break is the weight of their workload. The research shows that two in five (43%) employees believe they have too much work to pause for a few minutes. Managers are also setting a bad example as a quarter (24%) of employees see their boss not taking lunch and feel pressure to do the same.
Patrick Watt, corporate director at Bupa warned: "It's worrying that some employers are not encouraging their staff to take time out of the working day to relax and recharge. Not only does this affect productivity levels, but it can have far wider implications on business performance.
"Taking a proper break helps employees to stay alert, focused, and performing at their peak."
"While we appreciate everyone is very busy, employers should start 2015 as they mean to go on by recognising the importance of taking breaks, leading by example and not letting breaks fall by the wayside."
Many workers who do take lunch are not taking a genuine break from work. The research finds:
Almost half of employees rarely use this time to leave the workplace (45%)
Almost a third of employees admit they usually eat at their desk (31%)
Two in five respond to work calls (42%) and emails (40%).
Almost half rarely do something relaxing or rejuvenating (46%).
Yet taking a genuine lunch break is viewed as vital by staff. The majority of workers (52%) claim that missing it puts them in a bad mood, while two in five (40%) believe the lack of a proper break makes them feel unproductive during the afternoon.
When it comes to workplace wellness of even more concern, almost a third (30%) of workers have felt physically ill at work after skipping lunch.