January 8, 2015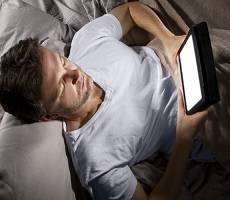 The use of tech outside of office hours can have a detrimental effects on workers' wellbeing according to a paper presented this week at the British Psychological Society's Division of Occupational Psychology conference in Glasgow. A meta-analysis by Svenja Schlachter and colleagues from the University of Surrey sought to determine the effects of being constantly "switched on" for work and found a blurring of boundaries between work and private life. The research showed that employees use a number of devices outside of office hours in the hope that staying "switched on" will increase flexibility and efficiency and because they believe there is a strong expectation to be available 24/7. This often has a negative effect on their work-life balance and increases stress.
Svenja Schlachter said: "Using varied technologies for work outside of office hours is a complex issue which is here to stay and needs to be addressed. Staying "switched on" might increase flexibility and efficiency at first glance, but in the long run, it can result in longer work hours and can be detrimental to well-being due to stress and work-life balance issues.
"We need to re-think unlimited 24/7 access to work, and manage technology use more wisely and in particular, more actively. Researchers, employers and employees need to work jointly on how to make the use of technologies as beneficial as possible, reducing the negative effects. Otherwise, there is a danger of unintended knock-on effects."
Svenja Schlachter, currently a PhD student whose studies are funded by the Economic and Social Research Council, scrutinised 65 previous studies in depth to determine the effects of being constantly "switched on" for work outside of office hours using modern technologies. The reviewed studies were conducted mainly in North America and involving a total of 50,000 employees.
The BPS Division of Occupational Psychology annual conference takes place from Wednesday 7 to Friday 9 January in Glasgow and can be followed on  Twitter and Facebook.