June 29, 2016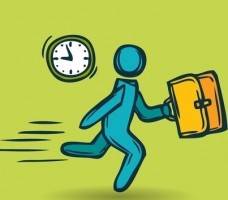 Measuring productivity is hardly an exact science, but there are ways that individuals can analyse their working habits and come up with ways of improving their performance. According to research by Conference Genie we all have times where we're very productive and others where we struggle to get any work done. The data gathered in the study of 2,000 UK employees who work from home or in an office, can be split into age, gender, region and industry sector and shows that over half of UK office/home workers say they sometimes waste time at work, and a further 15 percent say they often waste time at work. It seems that the older generation is most productive. Eighteen to 24 year old's gave themselves the lowest productivity rating and 55+ the highest. And in a further indication of the benefits of agile working a third of those who gave themselves a productivity rating of 4/5 say that their employer offers them flexible hours.
The results also showed that behaviours and therefore productivity differ according to the sector you work in:
Marketing, advertising and PR – 62 percent stated that music has a positive effort on their productivity.
Accountancy, banking and the finance sector – more than a fifth are more productive when they exercise regularly.
Public services sector – 37 percent are more productive if they're happy with their wage or salary.
Education sector – 44 percent feel that they're less productive when there are many meetings scheduled.
Hospitality or events sector – nearly a half feel the most productive on a Monday.
Energy and utility sector – 85 percent waste time at work, with half of these spending their time procrastinating on their phone.
Engineering and manufacturing – 62 percent admit to wasting time at work with half of them online shopping during working hours.
Across all sectors, the way in which people waste time was broadly similar with almost half (46 percent) of those who say they waste time at work, saying they do this through talking to colleagues.
And the theory that it is engagement factors such as the workplace environment and the job itself which mainly dictates motivation, is reinforced in this research with the revelation that remuneration isn't a massive incentive, as just 1 in 10 (12 percent) say it is their salary that would have a negative effect on productivity.
For more details on the data click here.