October 11, 2016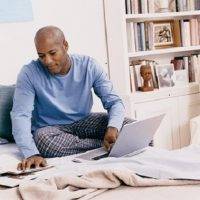 Working from home has long been branded 'shirking from home' but a new survey suggests that home workers actually take fewer sick days. The research by CartridgePeople.com and published in the SOHO (Small Office/Home Office) Workers Report, found that home workers are not only happier but they are also healthier than their workplace-based counterparts – taking an average of 2.4 sick days per year, in comparison to the 2.6 taken by those working from company premises. Of course, that doesn't tell us if they are in fact healthier, or that they're more prepared to carry out their work duties from the comfort of their bed. But the survey of 1,096 British workers, including both home workers and those who work from their employers' premises, also revealed that the majority of workers (60 percent) did feel happier when working from home.
And contrary to popular belief, of the 30.5 percent of British employees who work from home every day, 86 percent said that working remotely from home 'never' makes them feel lonely despite being separated from colleagues and spending hours in isolation.
According to the data, home workers experience a better work/life balance, as 1 in 4 say the flexibility of working from home allows them to work around their friends and family.
Andrew Davies, spokesperson for CartridgePeople.com, commented: "Our research has identified that allowing staff to work from home carries many benefits for employers, and as such, when employees request this, companies should consider the positive effects it can have.
"It's particularly interesting to see how many home workers feel they have a better work/life balance than those who are based in the office, and that they very rarely feel lonely – a common misconception, as many people presume spending so much time alone would have this effect.
"There are also financial benefits to allowing workers to work from home. Research by PricewaterhouseCoopers estimates that sick leave costs employers £29 billion each year, but as we've seen, the research shows home workers take fewer sick days, which could reduce the cost to employers."