July 8, 2021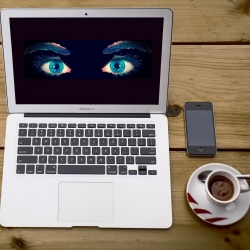 A recent study by StandOut CV claims that one in five companies are actively using (or intend to use) employee monitoring software, with the figure expected to grow as more firms look to offer or make remote working a standard offering.
With this in mind, StandOut CV, have taken a look into just what your employer is able to collate and monitor when using these tools and softwares.
What is my boss most likely to be monitoring?
94 percent of the top employee monitors track an employee's time and activities at work, often through self-reporting or in the form of activity monitoring of what tasks are being worked on, with 75 percent of monitors providing some form of "activity and usage tracking".
In addition to the time and activity tracking, 75 percent of the top employee monitors analysed were found to be taking screengrabs or screenshots of employee desktops.
Though many of the trackers make a point of suggesting these are within set times and trigger actions, they do not reveal what a trigger might be, or even if they have a safety measure should someone use their work device for personal use on days off.
Despite the memes about people nudging their mouse or hitting keys to "appear" to be working, StandOut CV's research claims just 59 percent of employee monitors collate and report on keyboard and mouse movements, however, 44 percent do report on keystrokes.
Those keystrokes recordings collating copies and data on everything you've typed…potentially including your personal information, passwords, usernames and other personal information.
Lesser know monitoring that your boss could be doing?
In addition to the 'main' monitoring points, many of the top softwares and devices analysed were found to collate and provide even more potentially invasive monitors.
During StandOut CV's analysis, it claims that almost 1 in 10 (9 percent) of monitors can access your device's microphone and audio record whatever is being said.
In addition to this, 1 in 5 (22 percent) monitoring of the software and tools analysed were found to be able to access video and camera recordings, often using these videos to take recordings of their screens.
While most might think that these tools would make themselves known, so employees know they're being monitored, 47 percent of the tools and software were found to allow employers to use "Stealth Modes", preventing employees from seeing their presence on the devices.
While over a third (34 percent) of employer-managed monitors could provide your boss with some form of remote access to an employee's device(s).
Why might this be concerning?
It has to be said that many of these tools and softwares are designed to better understand and increase productivity, or ensure compliance and intellectual property is secure, but there are (naturally) privacy and trust concerns.
Keylogging (44 percent) and screengrabs (75 percent) are used by many monitor tools, however, they have the ability to record any and everything. Meaning your boss could be seeing or have copies of your personal messages, images or data.
Another concern is location data, nearly 1 in 5 (19 percent) of the top employee monitoring software and devices record and share GPS data (in addition to IP details), potentially providing employers with not just an 'approximate' location but an Uber-esque insight as to where you are at any given time.
There is also the issue of what could be recorded at any given moment, especially when we consider 35-30 percent of the UK's workforce could be working from home some or all the week after 2021.
"People should look to separate their work from personal devices and personal use from work devices."
StandOut CVs insights highlighted that nearly 1 in 10 (9 percent) of monitors allow employers to record audio from an employee's device, while over 1 in 5 (22 percent) can access a devices camera and video, suggesting that bosses could be able to hear and see what you're doing at home.
Andrew Fennell, Director at StandOut CV comments: "It is expected that the pandemic will see greater numbers of people working remotely, with companies choosing to reduce costs and react to employee attitudes. However, with that comes the need for many firms to track and understand their employees, using monitors to help them secure their property and productivity levels high."
"With working from home increasing in long term popularity, it is concerning that so many of the tools we analysed could provide employers and managers with private audio, visual and text-based information."
"To keep people safe we'd recommend checking your employee handbook for information on the companies monitoring policies, to understand what they are (or aren't) collecting. Additionally, as a general rule based on the results of our analysis, people should look to separate their work from personal devices and personal use from work devices."
Read the full study here.
Image by prettysleepy1