April 21, 2021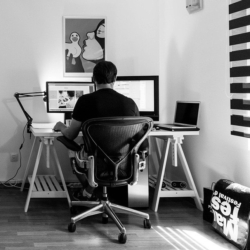 Research commissioned by CANCOM, conducted with UK HR professionals about post-COVID work habits claims that only one-in-ten organisations does not intend to run a hybrid way of working – with nearly two-thirds (65 percent) of HR professionals of the opinion that employees will divide their time between the office and home after all COVID restrictions have lifted.
UK workers' sentiments about going back to the office full-time have shifted, with the pandemic having had a huge impact on attitudes towards commuting and work-life balance. Now, as we come out of lockdown restrictions, UK businesses need to offer employees flexibility to ensure they can work in the way they want. But for those looking to switch to a hybrid model, without the right IT investments, employers will struggle to maintain worker engagement, both for technical reasons such as connectivity, and wellbeing reasons such as perceived exclusion of certain groups.
Mark Skelton, Vice President and CTO of CANCOM UK&I, comments: "The community and collaboration element of the office has been difficult to replicate during the lockdown period. For businesses looking to create this in a hybrid environment, it is important to use technology to enable seamless collaboration. Connectivity issues between those working remotely and those in the office will limit collaboration and idea sharing, and ultimately could put those working from home at a disadvantage."
There are huge operational hurdles around hybrid working that business leaders must be aware of and prepare for in the coming weeks before employees return to the workplace. With HR professionals citing poor network connectivity between those working at home and in the office (51 percent) and maintaining security through a corporate network (30 percent) as two of the biggest challenges around running a hybrid workspace model, the right tech and tools will be fundamental for successful hybrid working, both this year and beyond.
"Hybrid working is more than just a blend of employee locations"
Technology will be also key in creating new ways of working in the future, with 96 percent of survey respondents saying that behavioural analytics tools and AI will impact the future of work. By analysing employee activity, behavioural analytics tools can help employers to understand employee wellbeing and job satisfaction, whilst helping to ensure that remote working is enjoyable and sustainable for all.
Skelton concludes: "Given how drastically the pandemic has changed the way we work, it's promising to see that the majority of businesses are planning to run a hybrid work model post-COVID. But it's key to implement it correctly. Hybrid working is more than just a blend of employee locations; it's a mix of different elements, including software and hardware that revolve around the office 'hub'. In order to be successful, business leaders must provide employees with the ability to collaborate in an inclusive, tech-enabled environment."
Image by Arek Socha