October 29, 2015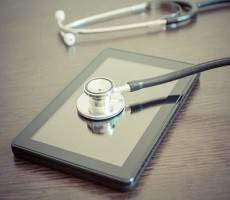 The Health and Safety Executive has released its latest statistics on work related illnesses, injuries and death in UK workplaces. The main takeaway from the data appears to be that after more than a decade of substantial falls across a spectrum of conditions and injuries, there are signs that numbers are starting to stabilise. According to the data for 2014/15, more than a million UK workers were made ill by their work during the year, losing some 27.3 million days and costing the economy £14.3 billion. This represents a fall of over 30 percent since 2002. Most absence is now down to stress, depression, anxiety (collated as a single issue for this particular report) and musculoskeletal disorders. These two groupings account for 9.9 and 9.5 million days off work respectively. The average days lost per case for stress, depression or anxiety (23 days) is higher than for musculoskeletal disorders (17 days).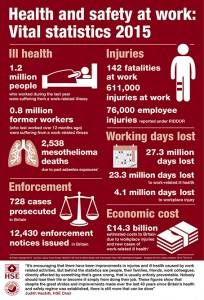 According to the HSE, on average, each person suffering from some form of work related illness took around 15 days off work, 19 days for ill health cases and 6.7 for injuries during the reported period. It found that new cases of ill health have generally fallen since 2001/02, reaching a low of 454,000 in 2011/12. In 2014/15, there were 516,000 new cases of ill health, a similar level to those in 2011/12 and 2013/14.
Other key findings include:
The estimated number of new cases of stress, depression or anxiety has remained broadly flat for more than a decade, with an estimate of 234,000 in the latest year.
For musculoskeletal disorders, the estimated number of new cases fell from 215,000 in 2001/02 to 142,000 in 2011/12. The level of 169,000 in 2014/15 was similar to those in 2011/12 and 2013/14 (no data was collected in 2012/13).
In the same year 142 workers were killed, and there were 611,000 injuries in the workplace.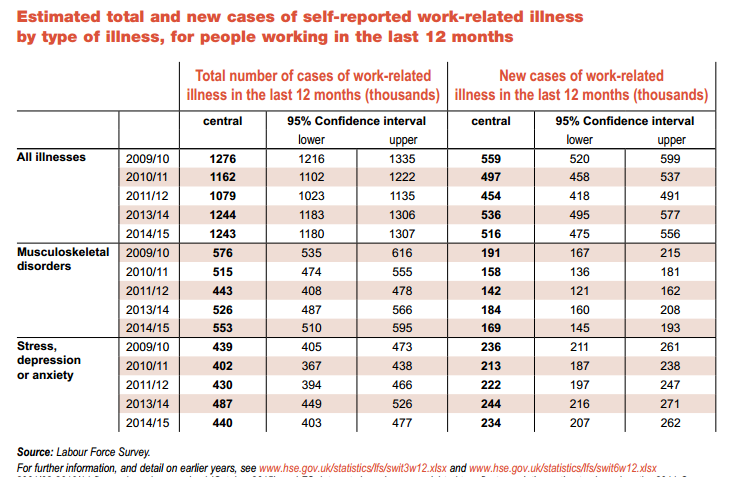 The report also consider the risk factors associated with work across a range of physical and psychosocial factors. Based on a 2014 national survey of workplaces employing 5 or more people, the most commonly cited risk factor across all workplaces were:
'Dealing with difficult customers, patients, pupils etc.', reported in about two-thirds of workplaces. While a recognised psychosocial risk, it can also present as a physical risk in terms of threats and violent incidents towards workers.
'Lifting or moving people or loads' was the second most prevalent reported risk factor in workplaces (present in just under 60% of workplaces with 5 or more employees). When this risk is not adequately controlled it leads to the potential for manual handling accidents and longer-term musculoskeletal disorders.
Other physical risk factors present in the workplace that contribute to musculoskeletal disorders include 'repetitive hand or arm movements', 'slips, trips and falls' and 'working in tiring or painful positions'. Each of these risks was reported to be present in around half of all workplaces with 5 or more employees
HSE's Chief Statistician Alan Spence explains more about the latest findings in this video:
According to HSE's Chair Judith Hackitt: "It's encouraging that there have been improvements in injuries and ill health caused by work related activities. But behind the statistics are people, their families, friends, work colleagues, directly affected by something that's gone wrong, that is usually entirely preventable. Nobody should lose their life or become ill simply from doing their job. These figures show that despite the great strides and improvements made over the last 40 years since Britain's health and safety regime was established, there is still more that can be done".