October 28, 2015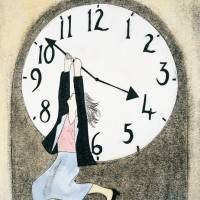 It's not just larger organisations and governments that are having to grapple with the UK's persistent 'productivity puzzle' but also smaller businesses who are increasingly turning to flexible working and other people centric initiatives to address the problem. That is one of the main findings of a new report from trade association Group Risk Development (GRiD).  According to their survey, nearly a quarter of employers (23 percent) believe productivity is an issue facing their business.  According to the office for National Statistics (ONS) this is a common problem across the entire UK economy as output per hour is stubbornly around 20 percent below the average for all G7 economies. This is the widest gap ever recorded and, according to GRiD is driving employers to seek ways of addressing their own shortfall with flexible working and wellbeing initiatives as well as investment in new equipment and technology.
When asked what measures were in place to improve productivity, this method –  including working from home and compressed hours – ranked highest, with nearly a third (29 percent) of the 501 employers surveyed saying they promoted this.
Investing in new equipment is another method used by a quarter (24 percent) of businesses looking to make the tools they have to hand work harder for them.
Meanwhile, 22 percent of employers are encouraging their staff to be more active, while 18 percent are encouraging staff to improve their health. Taking the time to invest in the health and wellbeing of a workforce, rather than approaching it as a tick-box exercise, will have far greater long-term impact on the growth and sustainability of a business. However, just 6 percent have invested in fitness technology, which can provide insights for both employee and employer when it comes to monitoring general fitness levels and can encourage better health behaviours.
Katharine Moxham, spokesperson for Group Risk Development (GRiD), said: "The productivity puzzle is not just an intangible issue: smaller businesses are now seeing their ability to achieve their growth potential hindered. It's clear from these results that employers are starting to recognise the importance of acting to combat losses and are implementing a range of measures, which in itself is encouraging, but central to improvement is staff wellbeing. Ill health, stress and, therefore, absence can still strike. When they do, they have a significant impact over the long-term, so there is clearly more to be done to prevent this from becoming a continuous drain on the business. Group income protection products may seem like an extra step to take, but they are hugely effective in keeping people in the workplace and giving them the support they need. At the end of the day, a business grows on the people behind the ideas and their delivery, so investing the time and effort in ensuring staff retention, support and motivation is kept up is key."