December 3, 2020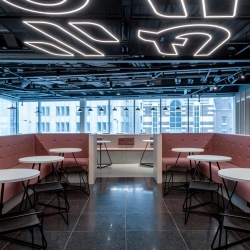 In the face of the revolutionary and long-lasting changes to workplaces across the world resulting from the pandemic, some commentators have suggested that the wide-spread necessity of adopting remote working practices may have made the office obsolete. However, such a dramatic upheaval to the very foundation of the workplace and working dynamic won't come without a cost, and new data suggests that perhaps the office isn't the dinosaur many assumed, but still a central pillar to effective businesses as part of a hybrid working strategy.
Barely a week goes by without news breaking of major corporations announcing dramatic changes to their real estate and workplace strategies. At first, this was mainly companies with a millennial culture – for example, Twitter announcing that employees would be permitted work from home permanently – but increasingly more traditional companies such as Standard Chartered, who recently announced that over half of their 85,000 workforce would be able to access flexible workspaces, have joined the growing ranks of companies seeking to adapt to a new era.
Re-evaluating real estate strategies and embracing home-working certainly offers significant cost-cutting benefits to companies. Even before the pandemic, many companies under-utilised their office space, with estimates suggesting that the annual cost of this wasted space could total as much as £750 billion.
Similarly, it's clear that remote working is here to stay: according to a YouGov survey, at least 58 percent want to continue working from home at least some of the time, avoiding draining and expensive commutes in the process. What's more, fears surrounding a loss of productivity appear to have been largely misplaced, with a recent PwC survey revealing that 69 percent of bosses say that their workforce is as productive – or more – at home compared to at the office.
Not dead yet
So, if getting rid of the office entirely would save companies significant sums and is the preferred – and more productive – option for workers, why not do so?
The answer lies partly in the same YouGov survey that stated that most workers would prefer the option to work from home at least some of the time, which also noted that only 18% would like to do so all of the time. Also, a significant minority, 39%, say that they never want to work from home after the pandemic.
A lack of adequate facilities to work from home is perhaps the first and most obvious of the reasons why we can't simply move away from the workplace entirely. While many older executives may enjoy working from comfortable home offices, younger workers living in shared houses are unlikely to have this privilege. When intermittent WiFi and crowded flat-share kitchen tables replace the office, productivity may seriously suffer.
This blurring of the home and work together can, worse still, make it difficult for workers to truly relax at home, whereas before the act of commuting to and from an office at least created a sense of separation between the two spheres. This can be seen in the fact that workers, according to the National Bureau of Economic Research, worked 48.5 minutes longer per day – or two whole extra working days a month – during lockdown.
As well as being overworked, workers may suffer from a sense of isolation, as the camaraderie of the office team is replaced with long stretches of working alone interspersed with the Zoom calls that people are becoming increasingly tired of.
The parent trap
Working parents may also suffer disproportionately from enforced home working, in particular those with very young children. This may, moreover, have a disproportionate impact on women: an IFS/UCL study states that for every hour of uninterrupted work at home that working mothers have, men on average have three.
On the one hand we have the measurable benefits to wellness and cost-saving that remote working brings, and on the other, a demonstrable need for the office workplace. Stuck between a rock and a hard place, the solution for employers may be to try and combine the two.
A hybrid strategy based around flexible office rotas, availability of external flexible workspaces, or even an allocatable amount of 'flex days' distributed in the same way as holidays, will allow the workplace to coexist with remote working. Employees deserve the best of both worlds, and without a full complement of staff in the workplace every day, businesses can downsize or commit funds to improving their space.
Companies can even turn to using on-demand coworking spaces, following the example of Standard Chartered, allowing workers who wish to work outside their homes to work from 'near home' offices' and avoid long commutes.
Companies that can take advantage of this hybrid working model will be best placed to find the silver lining to the COVID-19 cloud that has disrupted our idea of the workplace throughout 2020.
Image: HubHub / Sketch Studios