June 24, 2022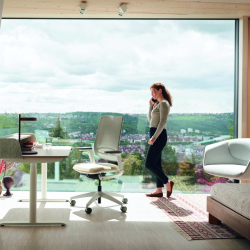 A new poll from the CIPD suggests that more than three-quarters of organisations have  now embraced hybrid working through a mix of formal and informal arrangements. However, employers are split over whether the move to new ways of working will last or if organisations will go back to pre-pandemic ways of working. In response, the CIPD is urging employers to seize the moment to develop and embed new ways of working that will ultimately benefit organisations and their people.
Ben Willmott, head of public policy at the CIPD said: "The post-Covid future of work is still undecided. Now's the time for employers to engage with their people and continue to refine and embed new ways of working that suit both the organisation and the workforce. Developing effective hybrid working arrangements can help employers attract and retain a more diverse workforce while enhancing employee wellbeing, work-life balance and productivity. They can also help employees easily and productively work from home when there are disruptions to their working day, like the rail strikes this week, or when adverse weather strikes.
"Hybrid working won't suit everyone or be possible for many workers, so employers must ensure there is consistency and fairness in how they manage, reward and promote those who can work from home and those who attend the workplace every day.
"Employers should also recognise there are potential ethical and legal considerations for differentiating pay or benefits between those working from home and those working in the office unless these can be justified. For example, there could be a risk of indirect discrimination, as it's likely that there will be more people with caring responsibilities, health conditions or disabilities working more regularly from home. Treating groups of workers differently could also cause or exacerbate pay gaps."
The survey of over 1000 senior decision makers by the CIPD suggests that the majority of employers who can offer hybrid working – a mix of workplace and home working – are embracing it:
More than three-quarters of respondents' organisations (78 percent) allow hybrid working, through either formal or informal arrangements. Just 8 percent don't, and 13 percent said it wasn't generally applicable for their job or sector.
Over half of respondents (54 percent) expect hybrid workers to be in the office for a minimum number of days either each week (43 percent) or each month (12 percent). Two fifths (44 percent) said there were no minimum expectations to come in.
Where staff are expected in the workplace each week, it's typically for a minimum of two days (34 percent), or three days (32 percent).
59 percent of senior decision makers agreed business leaders and managers in their organisations were more likely to trust people to work from home and be productive following the pandemic, compared to before COVID-19. Just 13 percent disagreed.
While the research indicates that hybrid working is working well in many organisations, some challenges or resistance are being felt.
While most employers (68 percent) don't plan to make any changes to pay and/or benefits for hybrid workers, 4 percent of respondents said their organisation had reduced pay and/or benefits and as many as one in ten (13 percent) said they plan to do so.
There is also a risk that new ways of working may be short lived. A small majority of senior decision makers (42 percent) felt that 'the memory of the pandemic will fade quite quickly and it won't be long before we revert to the way we worked before COVID-19′. However, 41 percent disagreed with that statement.