May 5, 2017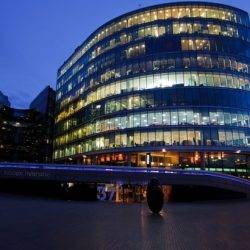 The collaboration between IFMA and the Royal Institution of Chartered Surveyors (RICS) is, for the first time, offering a combined suite of credentials and professional qualifications for facilities management in a single, online academy platform at www.fm.training. IFMA and RICS first launched the platform in December 2016 as an initial step toward 'leveraging the combined authority of two of the world's premier built environment professional organisations for the support of FM education and career advancement'. IFMA centralised its professional credential training — the foundational Facility Management Professional, the targeted Sustainability Facility Professional and the Facility Management Learning System, which supports learning for the Certified Facility Manager certification — on the academy in early April. Now, RICS has added the final critical piece of the IFMA-RICS suite of credentials and professional qualifications to the platform: the internationally recognised AssocRICS and MRICS professional designations.
"The RICS chartered designation symbolises preeminence and professional rigour in all corners of the property and built environment sector, globally," said RICS CEO Sean Tompkins. "Aligning this mark with the FM industry-leading body, IFMA, through the new online platform will strengthen the sector and enhance the role of FMs in all markets around the world."
The complete suite of credentials and professional qualifications creates a clearly defined career path in FM, providing support for professionals at any point in their career — from entry to advanced, according to the bodies responsible. The route to chartered status with the AssocRICS and MRICS qualifications ;opens doors for FM professionals to take on larger, international-facing roles as strategic leaders with opportunities to stand out in the wider real estate and built environment sectors'.
"For years, industry leaders have trusted IFMA's world-class body of credentials and the outstanding designations available through RICS," said IFMA President and CEO, Tony Keane. "This powerful suite of credentials and professional qualifications pushes FM into a new frontier of unification and integration into the wider build environment universe. Whether you already have a designation from RICS or a credential from IFMA or are just starting out, the FM Online Academy offers new and exciting ways to advance your career and benefit the people FM serves."
The collaboration between IFMA and RICS is working to advance the global FM community by offering the most comprehensive catalogue of professional development and credentialing. For more on the IFMA-RICS collaboration, please see: www.define.fm.