July 17, 2018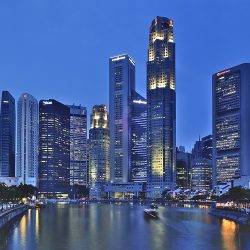 London, Singapore and Seoul make up the top three smart cities worldwide, according to new research from the Eden Strategy Institute. The 2018-19 study, in partnership with ONG&ONG Experience Design (OXD), involved 140 smart cities ranked across 10 measures; clarity of vision, leadership, budget, provision of financial incentives, support programmes, talent readiness, a people-centric approach, development of an innovation ecosystem, implementation of 'smart' policies and, finally, a track record of previous initiatives and projects. New York and Helsinki rounded off the top five cities, with Montreal, Boston, Melbourne, Barcelona and Shanghai finishing in the top 10.
According to the research, different geographies produced different strengths. European cities, for example, actively involve their citizens in developing smart city projects and consequently score highly on people-centric approaches and support programmes. American cities scored highly due to federal government competitions prompting city governments to develop more robust smart city strategies, while Chinese smart cities scored well because of well-publicised large investments in IT infrastructure.
Key findings:
European cities were more likely to involve their citizens in developing smart city projects, including the use of joint consultation, co-creation and participatory budgeting.
American cities score highly due to a federal government competition which is prompting city governments to develop comprehensive, robust and detailed smart city strategies that focus on urban mobility.
Six Indian cities are among among the Top 50 Smart City Governments with smart city plans co-created with citizens, and supported by systematically-planned and mobilised budgets from the central government.
Large investments in ICT infrastructure, together with highly-integrated public services, are helping major Chinese cities such as Shanghai, Shenzhen and Beijing rapidly scale their smart city projects to millions of citizens.
The ranking recognises the efforts of smart cities at the nascent stage, like Jakarta, Phuket and Kigali that are experimenting with integrated data platforms, public-private partnerships, and innovation districts.