June 7, 2019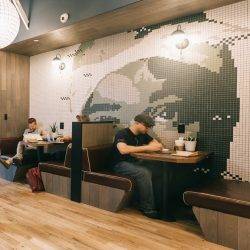 Socialising and drinking opportunities are some of the least enjoyable things about working in London, as loving their job and a chance to grow personally is more of an incentive for those who work in the Capital, a new report suggests. The survey of 1,000 London workers by Flexioffices, claims that 75 percent of employees in the city enjoy going to work for the personal development opportunities, training and the job itself. Flexible hours are becoming an increasingly enticing aspect of a job, with 21 percent of London workers liking their workplace because of the flexible hours available.
The research (which investigates London borough and age differences) takes a look at what 2019 employees enjoy at work and what they want from their workplace. Results found that despite one in three enjoy going to work to see their colleagues, most don't want to socialise with only 6 percent that enjoy work drinks and less than a quarter enjoying socialising.
The capital's boroughs with the highest enjoyment of personal development and career growth at work are Kingston Upon Thames (56 percent), Harrow (67 percent) and City of London (52 percent). These areas are also some of the lowest with flexible working opportunities with none of Harrow employees enjoying going to work for flexible hours compared to 57 percent in Newham.
With workers seeking more opportunities for flexible working, the demand for hot-desk style working is on the rise with a 56 percent increase in businesses moving to flexible office space since 2017.
A recent market report has also found that the desire for flexible workplaces was initially from creative industries but is now becoming increasingly popular by more traditional companies. This could be a great move for London companies as research proves all ages are unhappy with their office space, in particular, 45-54-year-olds of which only 8 percent enjoy their workspace.
"With research revealing that only a handful of employees actually enjoy the socialising events at work, getting office space and career opportunities right is crucial for business owners."
Not enjoying the career progression or personal growth opportunities at work are boroughs of Hounslow (5 percent) Richmond (14 percent) and Sutton (16 percent) which are also some of the areas where employees are least likely to enjoy their job with only a third of Sutton employees enjoying going to work for the job.
Those who are further towards the top end of their career have been found to enjoy going to work the least. Two-thirds of 55-64-year-olds don't enjoy their job and 18 percent don't like going to work. In comparison, 41 percent of 18-24-year-old London workers enjoy going to work because of their job, and only 1 percent don't like going to work.
With previous studies finding that millennials are heavily influenced by their workspace design, it comes as no surprise that Generation Z and Millennials are most concerned about their workplace environment. Over a third of London employees in these age brackets enjoy going to work for the office space compared to only 19 percent of Generation X.