August 10, 2016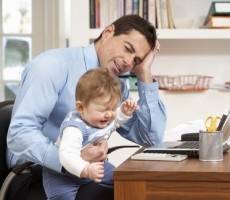 New research questions how much demand exists in the UK for fathers to take shared parental leave. The first available figures reveals a low take-up of new rights to paid leave, as just 3,000 new parents took advantage of the system in the first three months of 2016 – one year on from its introduction. By contrast, approximately 52,000 fathers and 155,000 mothers took paternity and maternity leave in an equivalent time period in 2013/14. The figures were published as a result of a freedom of information request from law firm EMW who suggest that this shows that the new rules are being significantly under-utilised and policymakers need to give more consideration to what benefits future changes to employment law will actually deliver versus the impact on small businesses which have to implement them. The new Shared Parental Leave system allows parents to share paid time off between them, in place of (and at the same rate as) Statutory Maternity Pay.
The figures for Quarter 1 2016 are the first figures available on Shared Parental Pay (ShPP), although the new system actually came into force for children born from April 2015 onwards. This is because previous figures included Additional Statutory Paternity Pay (now phased out).
Jon Taylor, Principal at EMW, says: "Hundreds of thousands of families could be missing out by not embracing this new, more flexible system. Demand remains very low, even though it could be just as worthwhile financially, as well as being personally rewarding.While enabling parents to share childcare more equally is a positive move, policymakers also need to think carefully about what impact measures like this will really have – both on those it is meant to benefit, and their employers who will have to manage a more complex system."
"There may be other, more effective ways to help businesses provide family-friendly policies such as tax breaks for childcare provision.Many new parents are still unaware of their new rights or are unclear about how the new system will work in practice – for their families and for their careers. Many of the old concerns which have long acted as a disincentive to taking extended maternity or paternity leave still remain. New parents are as acutely aware as ever of the financial pressures that a temporary fall in incomes could have at a time when they are also having to manage the extra costs of providing for a new baby."
"Uncertainty over the impact time off will have on individual's careers also looms large. While many employers are taking a much more enlightened attitude to paternal leave than ever before, this is not always seen as an easy thing to raise. Fathers in particular may still be concerned over the perceived stigma attached to asking for greater flexibility to take a greater role in their child's care, in case they appear to be less ambitious or committed as a consequence. However, employers have an obligation to accommodate eligible requests in the same way for fathers as they do for mothers."
Sarah Jackson, CEO of work/life balance charity Working Families, told HR magazine that a perceived stigma and fear were the factors behind low take-up of SPL, rather than lack of demand for SPL or this representing a flawed approach from government.
"Employers have a really important role, particularly in creating workplace cultures that support fathers' leave," she said. "Half of organisations are not enhancing their shared parental pay, which could discourage couples from using SPL – especially if the father is the higher earner. We need a drive to improve understanding of the scheme. Employers may well find that taking a pro-active as well as open and approachable attitude could help reduce the risk of misunderstanding, and improve loyalty and retention of talented staff. SMEs in particular could struggle to meet requests if they are unprepared for them."