August 10, 2016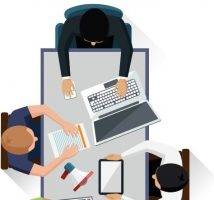 Badly run and overrunning meetings remain amongst the main sources of workplace conflict and unhappiness, according to a study of 1,000 US employees from workplace software provider Eventboard. The main sources of this conflict appears to be the number of meetings that overrun and poor technology, claims the report. More than half (56 percent) of frontline employees spend 1-2 hours in meetings daily and three-quarters (75 percent) of senior and mid-management level employees spend 3-4 hours in meetings daily. The report also highlights the inadequate provision of workplace technology even though the tools people use are seen as essential for their happiness and productivity. More than half of respondents claim they have to supplement the technology they are given by their employer with their own devices, even though technology can be twice as important as other perks in terms of making people happy and productive.

The reports main findings include:
Over forty percent of survey respondents making $75k+/year are 'not happy' in their current workplace; while fifty-eight percent of respondents making below $75k+ year are "happy or very happy" in the workplace.
Over half of employees have to supplement workplace technologies with their own; and almost forty percent of respondents noted that they would be motivated to work harder by innovative tech tools
From VPs to interns, meetings that run long are the number one source of workplace conflict
Although the majority of workers are generally happy with their jobs, a nearly 40 percent of employees still struggle to find happiness in the workplace. A notable size of workers earning a salary of $75,000 are generally unhappy at work, while millennials, a generation known for seeking out fulfilling careers, are happier than any other age group. Almost half of employees noted that conflict resolution is important to overall workplace happiness.
Nearly forty percent of respondents are teetering between not happy and somewhat happy at work.
Over half (fifty-six percent) of millennial respondents are 'very happy' in the workplace.
Forty-one perfect of respondents say conflict resolution is important in overall workplace happiness.
The majority of respondents spend at least one to two hours of their workday in meetings, although nearly half of attendees often miss meetings. Booking or reserving meeting rooms is one of the most common causes of workplace conflict.
Over half of employees spend one to two hours in meetings each day
Seventy-five percent of mid-management-level employees and above spend three to four hours In meetings every day
Forty-one percent of respondents say attendees miss meetings somewhat often due to conflicts or other commitments and according to data collected by EventBoard's built-in analytics, in the past thirty days eighteen percent scheduled meetings never happened because nobody showed up to those meetings.
Nearly sixty percent of respondents say meetings that run over are a source of workplace conflict
Regardless of the influx of available technologies, employers are still not offering employees the technological tools they need to get complete their tasks as efficiently as possible. Because of this, employees feel the need to supplement provided workplace technologies with their own.
Over fifty percent of employees have to supplement workplace technologies with their own
Nearly forty percent of employees would be motivated by innovative tech tools compared to twenty percent of respondents who would be fueled by out-of-office perks including health club reimbursement or discounts on products or apparel.
Millennials most likely to supplement workplace technologies with their own additions
"Because the office of today is constantly evolving, we are continually exploring new ways and implementing new technologies to help our employees work more efficiently, which plays a big role in overall productivity and happiness" says Shaun Ritchie, CEO, and co-founder of EventBoard. "EventBoard's platform addresses key areas of concern for employees in today's workplace and aid in resolving conflicts before they become bigger issues, helping employees connect and collaborate more efficiently than ever."
The report is based on responses from over one-thousand professionals across the US working for companies with fifty or more employees. The respondents range in age, gender and professional level.