April 21, 2021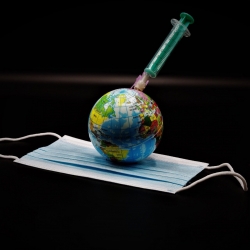 As lockdown starts to lift, more people are having to think about going back to work as normal. That means commutes, offices, cafeterias, and face to face meetings. CPD Online College, surveyed over 1,000 UK employees to find out how they feel about returning to the office prior to everyone being vaccinated.
When asked how they feel about returning to work, 60 percent of respondents said that they are worried about going back to the office before everyone is vaccinated. Just 40 percent said that they are not worried about being in an office before the vaccine rollout is complete. 64 percent of UK workers said that they don't believe that anyone should go back to an office until everyone is vaccinated.
Some companies have chosen to allow ongoing flexibility around working from home, however others are keen to get everyone back into the office. Going forwards, less than a quarter (23.9 percent) of respondents said that they would like to go back to the office-full time. The idea of remaining at home full-time had a similar response, with 23 percent saying that they would like to continue working from home.
A much more popular option was to shift to a combination of working from home and going into an office, which was the number one choice for 53 percent of workers.
Workplace concerns
CPD also wanted to find out exactly what worries the UK has regarding being in an office. When asked what their biggest concerns are, the number one response was that workers won't be able to properly socially distance themselves (60 percent). This was followed by workplace safety (56 percent), cleanliness (55 percent), and spreading illness (45 percent).
Still a concern, but a notable much lower priority for many, was being away from family (16 percent).
Other concerns cited included anxiety and mental health, leaving pets at home alone, commuting, lack of flexibility, and workplace bullying and sexual harassment returning.
Moving forwards
Some workplaces are working to ensure that their employees feel safe and comfortable when they return. We asked what changes should be implemented in order to ensure this is the case.
When asked what changes UK employees would like to see change going forwards, the top response was flexible hours (59 percent). This was followed by a 4 day working week (45 percent), fewer people in the office (37 percent), and fewer meetings (33 percent).
Mental health was also a priority for many, with 32 percent of respondents wanting an allowance for mental health time off allowance, and 22 percent wanting mental health support, such as counselling.
When the results were broken down by region, the top cities feeling anxious about returning to the office were Manchester, Glasgow and Birmingham. Cardiff, Newcastle and Liverpool workers were most likely to support postponing a return to the office until everybody is vaccinated.
"Businesses should be aware of the real-life impact that this pandemic has had on employees."
David Lee, MD of CPD Online College, said in response to the research "Businesses should be aware of the real-life impact that this pandemic has had on employees. Many workers are feeling a lot of anxiety about returning to 'normal', and it's imperative that this is taken into account while making plans to get people back into the office.
"There was once a time when working from home was a luxury reserved for freelancers, but that is not the case anymore and businesses need to take that on board. Working from home has proven to be a success for many, and despite some challenges, this year has proven that it can be a real option for many workers to have more flexibility around home working.
"Where possible, businesses should be asking their employees what they would feel most comfortable doing, as good mental health and a good work/life balance will do a lot more for productivity and workplace morale than simply having everyone back in meeting rooms."
Read the full report here.
Image by Jeyaratnam Caniceus