November 8, 2021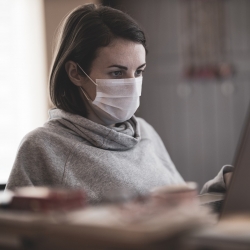 With more than 13.5 million workers having returned to their place of work for at least one day a week, more than four million say that they do not feel entirely safe doing so, claims new research by Direct Line Life Insurance. Some 5.5 million workers would work from home permanently if given the option and 3.6 million feel as though they are being rushed back in by their employer.
Five million who have worked from home during the pandemic (26 percent) say that they have not been looking forward to returning to work as they enjoy the work/life balance that they currently have, compared to 3.3 million (17 percent) who say they are looking forward to returning to the office.
As companies ease back into their office space, the research suggests that the average workplace that closed during the pandemic will be opening for just 2.2 days per week. Yet nearly two thirds (61 percent) who are working flexibly think this arrangement is temporary. A quarter (24 percent) of flexible workers believe their company will return to a five-day office week by the end of this year and a further 37 percent believe it will return in 2022.
However, when broken down by seniority the data suggests a return to traditional, five-day working patterns sooner rather than later, with 40 percent of senior managers who have been working flexibly expecting their business to be operating a five-day office week before the end of the year. This differs from middle managers, where 49 percent do not expect to be back in the office for five days until 2022.
"Employers will need to be mindful that everyone will have different views and feelings about the return to office life"
If given the choice, a quarter of employees who have worked from home (4.7 million) would prefer to do so full-time, while 11 percent would return to the office full-time (2.1 million). Over a fifth (22 percent) prefer two days in the office per week and 19 percent prefer only one.
Workers considered the potential mental and physical health impact of getting out of the house more as the most important benefit of returning to the office. Nearly three quarters (73 percent) of workers considered this a benefit of returning to the office. The social aspects (69 percent) and the potential positive economic impact of life returning to normal (69 percent) are seen as other key benefits. However, over two thirds (67 percent) admit they are concerned about the potential negative health impacts of people going out without any social distancing measures in place.
Vincent Guadagnino, Communications Manager at Direct Line Life Insurance, commented: "We have seen the pandemic cause a huge amount of uncertainty and disruption for everyone in many different ways, and office workers are now faced with a big change if returning to the office. With many now getting used to a new normal, employers will need to be mindful that everyone will have different views and feelings about the return to office life – whatever that looks like for you."
Image by Engin Akyurt