May 23, 2018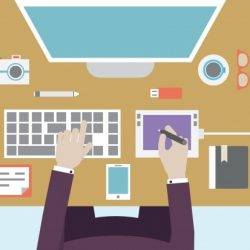 Eight in ten workers use their personal smartphones for work purposes to make their jobs easier as almost half report wasting 10 minutes per hour in their working day due to their employers' ineffective technology. According to the 2018 Connected Worker survey from Deloitte – just under half (49 percent) of respondents said they waste an average of ten minutes for each hour worked, in a median 35-hour week. Of the reasons given, 44 percent cited issues with technology, such as non-working or lack of devices as the main reason for not being productive at work. Workers compensate for the lack of employer provided technology with their own devices, with eight in ten (81 percent) already using their personal smartphones for work purposes. Over half (54 percent) of the workers feel they have the skills to use more technology at work.
"Our research has found that the majority of workers are both willing and able to use more technology at work" said James Yearsley, lead services partner at Deloitte.
"While employees are using personal devices to increase their productivity at work, they only gain the benefits if their employer links the devices to the company systems. Business services companies need to do more to provide a productive environment for their employees."
The majority of administrative tasks are carried out manually rather than digitally. For instance, 56 percent of workers manually fill out or input work related forms and 64 percent manually complete timesheets. Just under half of all employees (47 percent) feel that with the right technology they could work much faster.
Yearsley added: "Documents such as timesheets are crucial to businesses. They are used for a range of purposes from pricing to billing clients.  Completing timesheets manually not only risks errors but also adds unnecessarily both time and costs as supervisors and managers have to input data into systems, rather than the workers doing it directly.
"Our research shows that the most common reason for business services companies not investing in technology is the lack of budget. Companies that do invest, will be able to set new parameters for both pricing and quality of service, and be more competitive. The technology can help them to document the value they create, while businesses that stick to traditional methods will not be able to.
"Companies that do not have enough budget for technology should focus on simpler solutions including open-source and app based tools. In addition they could also work with technology vendors to identify different models for investing.
"Providing workers with the relevant technologies will create a more positive working environment, boost productivity and recover the investment, often already over a short period of time."