July 9, 2014
The familiar sight of companies scrabbling to define a standard global technology format on their own terms is evident with the announcement of yet another consortium intent on becoming the de facto  standard for the Internet of Things (IoT). The Open Interconnect Consortium (OIC) includes heavyweights such as Samsung, Intel, Dell and Broadcom and is intent on defining 'connectivity requirements to ensure the interoperability of the more than 30 billion devices projected to come online by 2020'. It joins the AllSeen Alliance and the Industrial Internet Consortium as one of a triumvirate of organisations, some with shared member companies, intent on cutting through the mish-mash of protocols associated with the Internet of Things. The principle will see a growing number of products and materials connected directly to the Internet and so able to exchange data. The adoption of the technology will have a profound impact in many areas of our lives, including workplace design and management.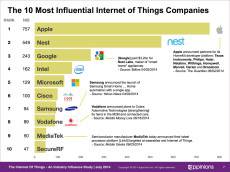 The announcement of the launch of the OIC comes as a new survey from Appinions declares the 'Top 10 Most Influential Companies' in a new Influence Study focusing on the Internet of  Things.
The new consortium is looking to create an open source protocol that will allow software developers and hardware manufacturers to work across platforms including Android, iOS, Windows and Linux. The new group claims that the other two consortia do not have all the answers to the challenges of IoT interoperability and connectivity. The new standard will aim to work across a range of global wireless technologies including  Wi-Fi, Bluetooth and Zigbee and is inviting other companies to join to take advantage.
Main image courtesy of @SimonHeath1