September 22, 2020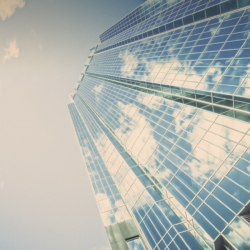 Water cooler chats and the buzz of office life is set to remain on hold until at least the New Year as businesses look to restructure their office needs from January. A government drive to see more office employees return to work in the workplace has seen a rise in commuters to more than 60 percent according to the latest figures from the Office for National Statistics.
However, the prospect of a return to the pre-Covid levels of office occupancy are unlikely until at least 2021 claims FreeOfficeFinder, which oversees more than 2,300 office locations. Based on a rise of enquiries for office space pre-Covid-19 to now, many firms are looking to January 2021 before looking to take up new office contracts.
The findings also suggests many firms are planning on switching from high-cost leases to more flexible serviced offices, which will enable organisations to cope with the financial impact of the Covid-19 pandemic as well as enabling company bosses to meet the safety measures required for workers to return.
Figures from FreeOfficeFinder from April to August 2020 claim that an 89 percent of businesses are looking for serviced solutions with larger businesses planning for January 2021. This is an increase of eight percent based compared to figures before the Covid-19 pandemic outbreak as businesses are now preparing to restructure the work force and work practices.
Also, many businesses are looking to 'downsize' their office space requirements as they acknowledge some staff want to retain the flexibility of working from home as well as the office.
"The uncertainty created by the pandemic is acting as an accelerator"
Further studies suggest that businesses are seeking locations away from city and town centre locations, with the risks posed by Covid-19 a major reason. Data from July 2020 saw a 45 percent increase in enquiries for smaller offices located outside of the M25 since May, compared with 23 percent for Central London.
FreeOfficeFinder CEO Nick Riesel said: "The likelihood of Britain's offices returning to thriving and bustling workplaces in the immediate future looks very unlikely.
"The Covid-19 pandemic has brought many changes to the sector with the rise of Work From Home employees, as well as many businesses being affected financially. This explains why office-based businesses are looking for more workable, cost-effective and flexible solutions.
"Businesses have to have a great emphasis on ensuring the safety of their workforce and employing Covid-19 measures, while they also have to be able to provide more flexible arrangements for those employees that want to be able to work from home at times.
"This is reflected in a greater increase on enquiries for serviced offices and also for smaller offices. Businesses are also still working out the costs and the solutions, which is why many are not committing to anything at present and are looking to the start of next year. This will give them the time to get everything they require in place and why office workers won't be rushing back just yet.
"The serviced office sector is very agile and can adapt spaces for businesses, which is why I am not surprised many businesses with leases are looking to switch. The uncertainty created by the pandemic is acting as an accelerator and steering these decisions at a much faster pace. It is likely we will see this trend continue for quite a while."
Image by Free-Photos