July 21, 2016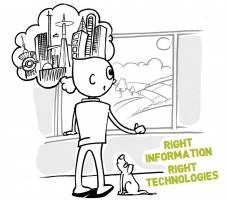 Employees believe their workplace is not making best use of latest technology, but expect this to improve as remote work begins to provide both quality of life and productivity benefits. In the latest Future Workforce Survey conducted by Dell and Intel, nearly half of global employees believe their current workplace is not smart enough, while 42 percent of millennial employees say they are willing to quit their job if technologies are not up to their standard. The research suggest that the addition of collaborative tools and innovations such as internet of things (IoT) and Virtual Reality (VR) will soon become vital to the workplace. According to the poll of nearly 4,000 full-time employees in ten countries, over half (57 percent) believe they will be working in a smart office within the next five years, while 51 percent believe that better technologies will make face-to-face meetings redundant within the next five years.
The research shows that the influx of new technology is having a significant impact on what workers expect from their employer, and that workplaces which don't enact these new advances will be left behind.
"The workplace is reaching a tipping point. Today's workers have a growing expectation that their employers integrate the latest technologies seamlessly and securely into their working lives," said Allison Dew, vice president, global client solutions marketing, Dell. "Employees have seen first-hand the ways new technologies can help them do their jobs better, and are hungry to use the latest advancements to be more productive. While this may seem daunting, it's a business-critical opportunity for companies to be at the forefront of the future workplace and enable the future workforce."
The study shows that today's office is not smart enough; however, workers expect to be working in smart offices in the near future. Workers are not only ready for businesses to implement the latest technologies to make their offices smarter, they expect it to happen within the next five years. Specifically, 44 percent of employees worldwide feel that their workspace isn't smart enough, and more than half expect to be working in a smart office within the next five years.
This expectation is highest amongst the younger workforce, with 69 percent expecting to be in a smart office within the next five years. The consequences for not meeting these expectations is also greater for the millennial workforce, with 42 percent saying they would quit a job with substandard technology and 82 percent saying workplace technology influences what role they would take.
Further, a majority of workers place an emphasis on functional benefits with 63 percent of millennials and 55 percent of older workers (over 35 years old) indicating they would rather have high tech perks, such as augmented/virtual reality (AR/VR) and Internet of Things (IoT) than low-tech perks like ping pong, free food, etc.
The way we communicate will be the next thing to change. The influx of new technology in the workplace has affected how employees communicate, collaborate and work more efficiently. In fact, with many employees believing that face-to-face meetings will be obsolete soon, the norms of office communication could be the next major change impacting the workplace.
While 57 percent of global employees still prefer to have face-to-face conversations with colleagues, half of global employees and three in five millennials think better communication technology and remote teams will make face-to-face conversation obsolete in the near future. In fact, a majority of workers in China, India and South Africa already do not prefer face-to-face conversations and instead use collaborative technologies to communicate with colleagues. Within this evolution, 79 percent of millennials believe workspaces are more collaborative than they used to be, and over 70 percent of millennials feel that advanced tech/smart offices are crucial to a collaborative, productive and efficient work environment.
Further, employees noted that virtual-sharing allows for collaboration with colleagues while remote capabilities would be the most beneficial technology integration into their office lives.
Virtual reality and artificial intelligence could impact the workplace sooner than we think. Cutting edge technologies including virtual and augmented reality and artificial intelligence may soon play a pivotal role in how we work, and employees are expecting these technologies to impact their lives soon.
While millennials are the keenest for this convergence, interestingly it isn't just the younger workforce who are looking forward to the introductions of these technologies into their working lives. Two thirds (66 percent) of the global population would be willing to use AR/VR products in their professional lives, while 46 percent believe the technologies will improve productivity within their individual role. Just under two thirds (62 percent) also believe that the introduction of artificial intelligence will make their job easier, while half (50 percent) say AI will lead to more productivity in the workplace, with 30 percent listing the ability to automate complex or repetitive tasks as the major immediate advantage.
Remote employment allows global workers to focus on both productivity and quality of life benefits equally, revealing the range of advantages that flexible working provides. Evolving technology has already had a huge impact on modern employee lifestyles. Technology has allowed people to change their lifestyles, and in turn, this has impacted their work styles and preferences. With these changes, employers are offering more flexible work arrangements to keep up with this evolution to cater to the mobile worker.
Over half (52 percent) of employees already work outside of a traditional office at least one day a week, while 18 percent are working from a public location every week. Employees are also seeing the advancement of technologies to better enable these new working arrangements, with respondents listing advanced security protection as the single most important technology to be implemented into their workplace.
"Advanced technology and collaboration has significantly grown in importance, especially as millennials are entering the workforce," said Julie Coppernoll McGee, vice president, global marketing and communications, Intel.
"As the research outlines, we're seeing this generation play a vital role in the direction of employer decisions, and is leading the way to influence the adoption of emerging tech, strong communication tools and flexible work environments. A technologically modern workplace is necessary to create a productive, happy and capable workplace for everyone."