July 25, 2016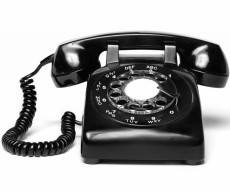 A new survey has confirmed the imminent death of the 'nearly useless' desk phone, which while still in evidence within many organisations, is believed by one third of workers will disappear in two to three years. With both corporate and remote workers increasingly away from their desks, 65 percent already have a 'desk phone optional' work environment and over half (59 percent) believe the desk phone is outdated. The 2016 Report on Business Communications in the Era of the Anywhere Worker, by Dialpad, among end users to executives, on cloud communications adoption rates and expectations, also found that businesses of all sizes are adapting to the "anywhere worker" movement and as employees increasingly rely exclusively on mobile technologies, the organisations they work for are quickly evolving to meet their mobility demands and prepare for more anywhere workers in the future. In fact, 84 percent of responding companies already have remote workers.
"Our survey reveals that while the slow and painful death of the desk phone has clearly begun, it cannot happen fast enough for many workers," said Craig Walker, CEO of Dialpad. "The anywhere worker movement is now evident in every segment of every industry. To enable these workers to connect and collaborate, high-performing companies are turning to productivity suites, such as Google Apps for Work and Microsoft Office 365, and a pure-cloud communications strategy that abandons the desk phone. This significant trend will only accelerate over the next few years."
The results of the 2016 State of Business Communications Adoption report are in line with other research findings. For example, a survey of Fortune 1000 companies found that employees were at their desks only 50 to 60 percent of the time, forcing a reconsideration of telephony and space strategies. Dialpad found that 59 percent of employees think the desk phone is outdated and nearly one-third think they won't exist three years from now, yet 66 percent of companies still provide employees with desk phones.
The survey also revealed that 67 percent indicate that employees are allowed to work from home and
83 percent say their organisation will increase their reliance on a remote workforce in the next three to five years.
According to the report, the anywhere worker movement is not limited to tech and media companies or to millennials and entry-level employees. The shift is occurring across every business size, industry, department, generation and role, yet a conflict still exists between the technologies employees want and the solutions employers are delivering.
However, today's professionals still prefer to communicate via phone and email over video. For internal communications, the order of importance for communications tools, ranked highest to lowest, is email, voice, instant messaging, in-person, online meetings, text messaging, video. For external communications, the order is voice, email, in-person, online meetings, instant messaging, text messaging, video.
The survey also found:
61 percent of respondents bring their own mobile phones to work.
Faster moving industries such as tech and media have a higher use of bring your own device to work, 62 percent and 64 percent respectively, compared to slower moving industries such as education and financial Services that sit at 58 percent and 57 percent respectively.
89 percent think their phone should integrate with Salesforce, Google Apps for Work, Microsoft Office 365 and other cloud software.
89 percent think their phone should be able to text mobile devices and external clientele.
It concludes that employees want technology that offers increased flexibility and productivity. The desk phone ties them to a desk, while modern business communications enables them to work anywhere and offers native integration with business applications.