September 12, 2018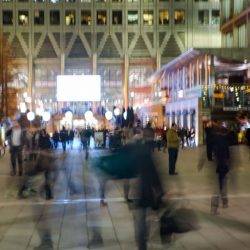 New research from Huawei has suggested how much the dusk-to-dawn workforce is significantly boosting the 'twilight economy' by contributing an estimated £487 billion annually to the UK economy. The study of more than 2,000 UK workers found that a quarter (25 percent) of us now work outside of the traditional 9 – 5. Looking across the UK, a number of 'twilight hubs' have emerged, with Norwich (34 percent) topping the list of cities whose residents work whilst the rest of the nation sleeps, followed closely by London and Manchester (both 31 percent), and Liverpool and Cardiff respectively (both 30 percent). People who spend their working moments in the twilight hours say they feel more inspired and creative (30 percent) during this time, as well as more productive (28 percent). Meanwhile, a fifth of British workers prefer the flexibility that twilight working allows when it comes to balancing time with their kids (19 percent), and 20 percent describe themselves as night owls who find it easier to work later.
The study reveals that among twilight workers across the UK:
Glasgow has the highest number of wordsmiths and budding photographers, with a third (31 percent) of Glaswegians choosing to write in the twilight hours, and a quarter (24 percent) focusing on photography
Mancunians have the biggest aspirations to be the next social media star, with one in eight using the twilight hours to work on building their YouTube channel, Instagram or personal blog
York has the highest number of art enthusiasts in the UK, with a third (32 percent) of its twilight workers dedicating time to artistic pursuits, and 18 percent pursuing a twilight career in graphic design
Londoners are following their passion for film, with one in ten in the Capital pursuing filmmaking projects out of traditional working hours
Leeds dwellers instead focus on app and web development in the twilight hours (13 percent)
"Exploring the lives of those who work in the twilight hours has really opened our eyes to how much really goes on between sunset and sunrise," said Justin Costello, Head of Marketing for Huawei UK & Ireland. "
Top 'twilight hubs' in the UK
City
 percent of twilight workers
Norwich
34 percent
London
31 percent
Manchester
31 percent
Liverpool
30 percent
Cardiff
30 percent
Newcastle
26 percent
Bristol
25 percent
Brighton
23 percent
Glasgow
22 percent
Leeds
22 percent
Sheffield
21 percent
Edinburgh
20 percent
York
20 percent
Birmingham
19 percent
Celebrating the unsung heroes of Britain's bustling twilight economy, Huawei has released a new film documenting the stories of those who work from dusk until dawn, providing a behind-the-scenes glimpse at what some of Britain's most twilight workers get up to when the rest of us are busy sleeping https://youtu.be/JRDZmXq579c.