January 10, 2017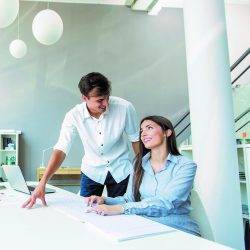 Businesses need to shift their focus away from functional issues, such as cost per square metre, and towards the productivity boost that can be delivered through well-designed work spaces which engage employees and make them feel valued. This is according to a new study produced by Interserve, Designing and delivering effective workplace experiences – a practical guide, which argues employers should adopt teams of 'workplace guardians' to curate work spaces that support employee wellbeing and overall business performance. The report sets out a six-stage programme for businesses to create effective workplace experiences which it says should be led by a team of experienced workplace coordinators or 'guardians' – a process that sees workplaces shaped by employees, for employees.
The six stages outlined in the study include: developing a workplace brief that aligns with wider business objectives, brand and personality; synthesising ideas from a team of technical, business and creative specialists; mapping people's interactions with the wider work environment; developing a detailed design specification; honing solutions to create a joined-up experience; and managing the workplace experience over time.
In the report, Interserve stresses that businesses should ditch a top-down and static approach to workplace design and management in favour of a continuous and collaborative process of evolution to deliver, manage and maintain the workplace experience.
The study is third in a series which is being developed as part of a two-year research project by Interserve with workplace consultants, Advanced Workplace Associates (AWA), into the science behind successful working environments.
Jeff Flanagan, managing director – commercial at Interserve, said: "There is a growing appreciation in business of the role the workplace plays in boosting business productivity. A widespread discussion has seen the working environment repositioned as not simply a necessary cost, but as a tool to drive commercial success.
"Real progress, however, relies on the practical application of these ideas. Our report sets out a clearly-defined series of steps that businesses need to take to create high-performance workplaces. Our research shows that having the right people in place to lead this process is critical and companies should establish dedicated teams, with help from external partners where necessary, to guide the transition."
Added Andrew Mawson, founder of Advanced Workplace Associates: "Successful businesses rely on an engaged workforce which feels supported and valued in a way that goes beyond salaries and incentives. To get the best from their employees, companies need to invest in beautifully joined-up workplaces that create the conditions that help them to do their best work every day and which are loved by their teams.
"Giving ownership of the workplace design process to employees and professionals with different skills and responsibilities, enables them to shape and deliver an environment which works for everyone, now and into the future, and responds to strategic business drivers."
Designing and delivering effective workplace experiences – a practical guide, is available to download here.