September 13, 2016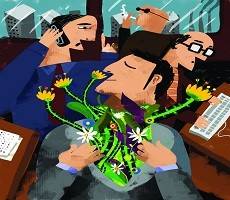 Improving employees' physical and emotional response to their working environment – from the look and feel of a workplace to non-visual sensory inputs such as smell, noise and temperature – can significantly improve productivity and cognitive performance, a new report suggests. According to Decoding the workplace experience: how the working environment shapes views, behaviours and performance, experience is not just about how well the workplace satisfies functional needs, it is about the overall impression it leaves on the user and the way an employee experiences an environment is emotional and occurs potentially at a subconscious level. Sensory influences such as the smell, noise and temperature of the working environment are among the main factors that influence employees' experiences of the workplace and impact thier performance. Expectations of the workplace also change depending on personality, background and numerous other factors; which is why understanding your workforce is the key to creating an effective workplace experience.
This is the first report in Interserve's workplace experience science series – launched in July in partnership with Advanced Workplace Associates explores the science behind creating more effective workplaces and looks at:
How we process experiences – the sensory, emotional, cognitive and social factors that define how people experience the places and people around them.
The science of the customer experience – what scientific research tells us about customer experiences in the consumer world, and how this relates to the workplace.
The workplace and employee behaviour – how workplace environments and the way in which employees experience them impact on behaviour, relationships and performance.
Commented Jeff Flanagan, managing director – commercial, at Interserve: "While there is little data specifically about the workplace experience, there is a huge body of scientific research looking at how our experiences of a consumer environment – for example, a shopping centre or a retail outlet – impacts our behaviour when it comes to purchase intention and brand loyalty.
"The environment may be different in the workplace, but the way we process experiences and how this affects our behaviour is the same. By understanding employees' physical and emotional responses to their working environment – which this report seeks to explain – workplace professionals can design and deliver positive workplace experiences that will contribute to improved productivity and performance for the organisation."
Andrew Mawson, founder of Advanced Workplace Associates, said: "UK businesses are currently locked in a battle to improve the calibre and productivity of their workforce. The workplace experience can be a powerful weapon in this battle – this report is designed to give organisations the knowledge and understanding to wield it more effectively."